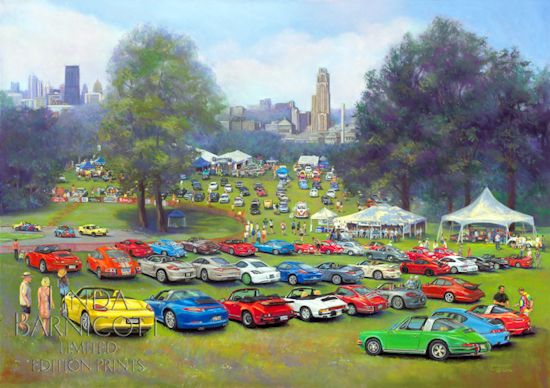 We're having another eventful week at Chez Barnicott, as we found out that our daughter Alyssa is in need of some prayer. Her baby, Aria Grace, is still in the breech position, and there has been a lot of activity around this new finding. In just a few weeks, we will be holding our little gift, our first grandchild, in our arms! In the meantime, Alyssa's doctors will be doing their best to help turn the baby, and a positive mindset can't hurt. Any prayers will be greatly appreciated!
Yes, it's definitely been a week of surprises in the Barnicott Studio. Although it wasn't part of my original plan for this month, I'm working on another new painting… a portrait of Mother Teresa, a woman I've always greatly admired.
The story of how I came to rethink my priorities and create this new portrait is really quite amazing. And next week, I'll share it all with you! So stay tuned…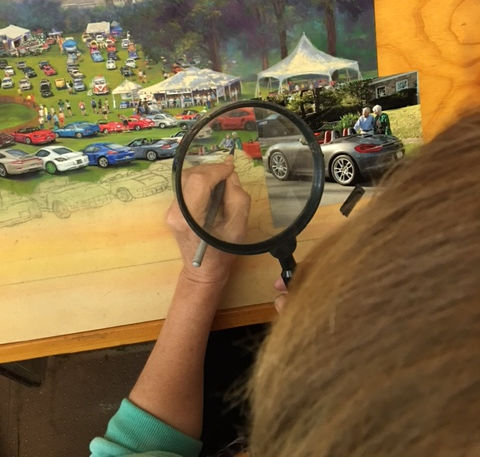 If you love the Vintage Grand Prix… if you love cars… and especially if you love Porsches, I think you'll love my new painting, "Porsche Fields Forever." Check out the official description of the painting from my catalog:
"Every year on a special weekend in July, car enthusiasts from around the country gather in Pittsburgh's Schenley Park for the Pittsburgh Vintage Grand Prix. Like wild flowers, the hillsides come alive with the vibrant colors of classic cars. The Allegheny Region of the Porsche Club of America makes quite a statement with Porsches both classic and contemporary. Stroll among these beautiful driving machines and imagine magnificent "Porsche Fields Forever"
Among all the other family and studio goings-on this week, "Porsche Fields Forever" made its debut for sale on my website. Though the original is sold (commissioned by local Porsche enthusiasts for the Pittsburgh Vintage Grand Prix), the limited-edition giclee prints are now available on my website. I think you'll love the brilliant colors, the view of Oakland landmarks, and the excitement of the race. CLICK HERE to get a better look!
A portion of the proceeds from the sale of "Porsche Fields Forever" prints goes to help support autism services and the Allegheny Valley School.
Make sure you are the first to know about all of my news, appearances and any "special deals" I am offering to my subscribers, by taking the time to sign up for my weekly newsletters now. CLICK HERE to sign up. You will also receive a FREE slideshow showing the step-by-step development of my painting, "Celebrating Time and Tradition at Macy's".