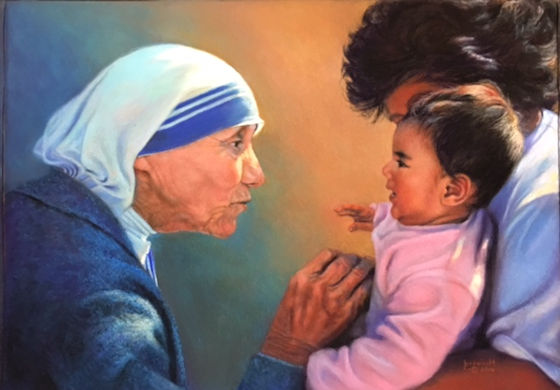 First, I want to thank all of you for your thoughts and prayers for Alyssa, Jon, and our soon-to-be granddaughter. This week was a rough one for them because of some pregnancy complications as well as a very scary auto accident. Don't worry – everyone (including baby) is just fine… unfortunately, the car not so much. But as we have always said, "Cars can be fixed, people can't." We are just grateful that the kids were able to walk away from it.
Now I have some great news I want to share with you…
I will appear on Pittsburgh Today Live with Kristine Sorensen on KDKA-TV (CBS) on Monday (August 22nd) at 9 a.m.
I'll be talking about a few of my paintings that I'll have with me on the show, but especially my newly finished painting of Mother Teresa, "The Heart of a Saint." This painting was a labor of love. It is very, very special to me and has actually been in the works for two years.
The story of how "The Heart of a Saint" came to be is one of chance meetings and mysterious coincidences. Here's the short version:
Two years ago, I had a booth at Delmont Apple Festival, and as always, I met a lot of wonderful people and had many interesting conversations.
The following week I was taking a break near the bandstand at Ligonier Days, when I heard someone call my name. It turned out to be a woman who had visited my booth in Delmont the week before. She said, "This was not a coincidence! We were meant to meet again." She definitely had my attention!
She said she needed to give me something important, and she opened her purse to reveal a big stack of photographs. She selected two of them and handed them to me. The photos were taken when she had the opportunity to meet Mother Teresa in Tijuana, Mexico, in 1989, and she wanted me to have them.
She had no way of knowing that I've had a lifelong admiration for Mother Teresa. I was thrilled to hear her story of how she met and actually wrote to her, and I gratefully accepted the photos.
But then as I walked back to my booth, I realized that I didn't get her name or permission to use her photos for a painting. So I had to be content with displaying them in my art studio and being inspired by her image, a constant reminder of her selflessness, love, and compassion.
Fast forward to a year later… my daughter Brittany works for St. Vincent DePaul, and one morning she received a phone call from a woman who wanted to donate items to the stores. At the end of their conversation, the woman mentioned that she would like to give her a few photos of Mother Teresa.
Fortunately, Brittany has a great memory! She remembered the story of how I acquired my photos and called me immediately. We knew it had to be the same person. Long story short, we were able to make contact, and she said she would be honored if I used one of her photos to create my new painting.
And one more coincidence… my painting will be launched just before Mother Teresa will be canonized as a Saint on September 4th. It's been a privilege to have been given the opportunity to recognize her life's work through my art.
Here's a look at the process that brought this very special painting to life!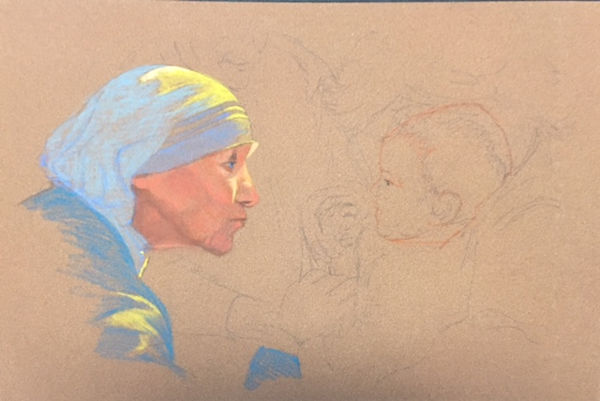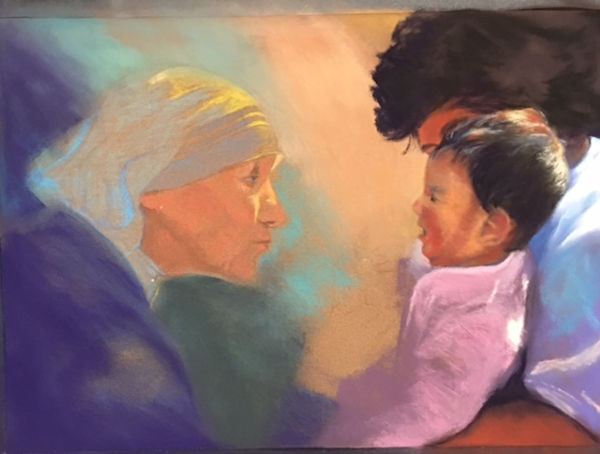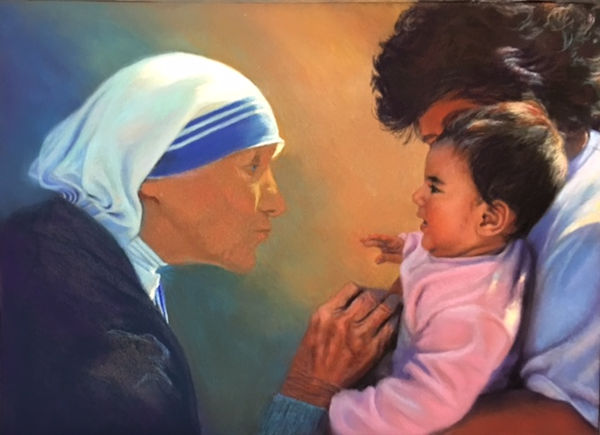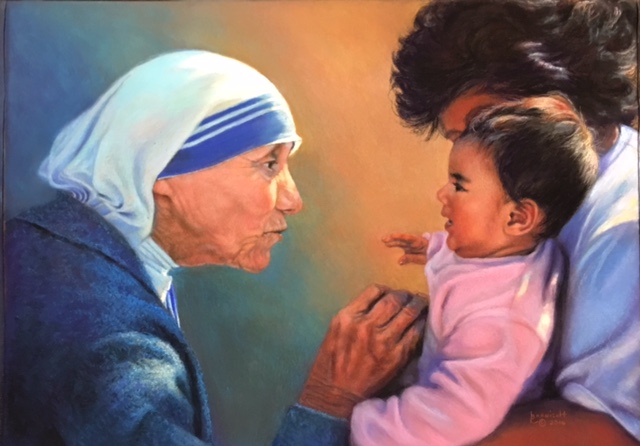 Be sure to tune in on Monday morning at 9, and you'll be the first to see the original before I present it at the Shadyside Arts Festival. "The Heart of a Saint" is for sale as an open giclee edition (12″ x 16″) and sells for $85.00. CLICK HERE to purchase your print today.
I hope my new portrait of Mother Teresa brings you as much joy as it brought me while painting it!
Make sure you are the first to know about all of my news, appearances and any "special deals" I am offering to my subscribers, by taking the time to sign up for my weekly newsletters now. CLICK HERE to sign up. You will also receive a FREE slideshow showing the step-by-step development of my painting, "Celebrating Time and Tradition at Macy's".