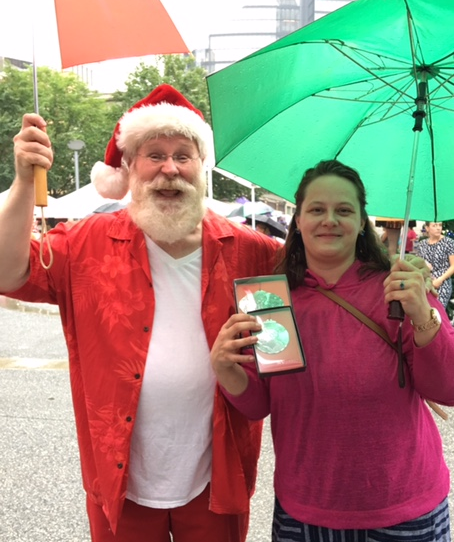 Last week, I decided that since we were celebrating "Christmas in July" in Market Square, I would put in a request for some seasonal snow flurries to set the holiday mood. Unfortunately, the snowflakes I ordered must have melted in the heat, because we got rain instead!
It turned out that my borrowed tent had multiple leaks, which led to multiple puddles… so my priority became taking cover and keeping my artwork dry. I was a little discouraged and ready to pack up and go home, but then Santa dropped by my tent for some photo ops with visitors and convinced me to stay. And I'm really glad I did – even though I was closing up my booth to protect the artwork, many customers came in to buy their first Christmas gifts of the season!
Though he made quite a splash (ha ha) at Market Square and Wendell August Forge in the last couple weeks, Santa's summer vacation has come to an end. When we said goodbye, he was excited to head back to the North Pole to get ready for his busy season.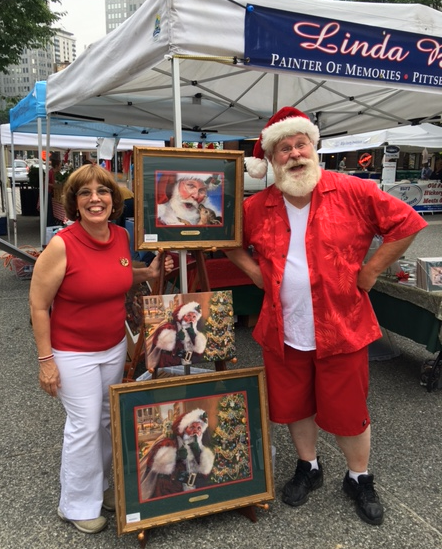 I'm getting some R&R myself this week, and when I return, like Santa, I'll be launching into my own holiday busy season… Soon my website will be updated with all the new pieces that will be available for sale. Meanwhile, I have new works in progress!
You've already seen my latest piece in the "Jolly Old Elf " series, "Making Magic in Santa's Workshop." Now I'm working on its companion piece, which features Santa looking right at home on the back of a vintage Harley… right down to the leather jacket! It's the same size as last year's "Santa's Newest Reindeer" and will be an open edition. If you purchase the remaining "Jolly Old Elf" series, you will also receive this print at no cost (a $70.00 value).
After this year's "Making Magic in Santa's Workshop," there will be three more Limited Edition prints and three more Open-Edition companion prints to come.
The last painting in the "Jolly Old Elf" series will be a Woodland Santa surrounded by all his furry friends, lit only by the stars and the soft glow of a lantern.
It's not too late to get the benefits of purchasing the entire collection. If you already own "Shhhh!" and purchase the other four paintings, you'll receive all remaining companion prints for free – a savings of at least $280.00!
I'm on vacation this week, but if you're interested in purchasing the entire collection, just give me a call (1-888-PITT-ART) or shoot me an email at info@lindabarnicott.com, and I'll get back to you next week.
I hope you will join me on my journey, this labor of love, my mission to capture the magical, mischievous, and marvelous heart of Santa in my art.
P.S. – I just picked up the new prints of "Making Magic in Santa's Workshop" from the printer before I left on vacation. They're absolutely gorgeous – far beyond my expectations for a print! When I return, I'll get them out right away to everyone who has purchased one (or who orders one in the meantime).
Make sure you are the first to know about all of my news, appearances and any "special deals" I am offering to my subscribers, by taking the time to sign up for my weekly newsletters now. CLICK HERE to sign up. You will also receive a FREE slideshow showing the step-by-step development of my painting, "Celebrating Time and Tradition at Macy's".