It's that time of year again! My busiest season is about to begin, with orders flowing in, events and shows to exhibit, etc., I'm done painting until January, but what most people don't realize is that my work doesn't end after I add my signature to a piece. There's still much more to be done long after the paint has dried!
For example, I've been spending a lot of time at the printers recreating "Holiday Greetings from My Hometown" in ink for the print. I'm also developing the ornament, which is a time-consuming two-week process (if I'm lucky!). Then I have to set up the record books and create the Certificate of Authenticity and have it printed and numbered before getting the print out to the public.
This may be my busiest time of year, but I think it's also the most fun because I'm out and about, meeting new and old friends and clients, and making the rounds at so many local events. Everyone has a full schedule in the holiday season, but it's also important to take some time to indulge a bit and treat yourself to a little pampering every now and then.
This Sunday, I will be exhibiting at the 7th Annual Pink Pamper Event at the Crowne Plaza Pittsburgh South (near South Hills Village). This is an annual health and beauty fair that benefits women and children with cancer. (See below for more information.) I will be one of over 50 vendors there from 10 a.m. to 5 p.m.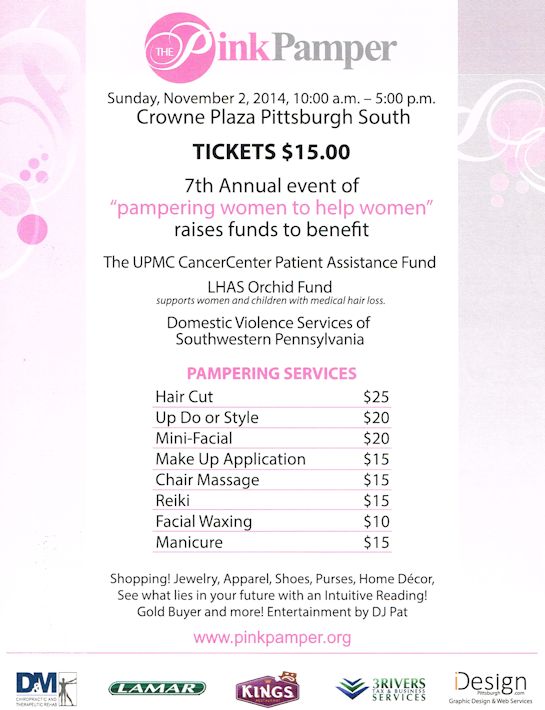 This event will also be the debut of my new Metal Art Creations! Only a limited number will be available at this time, so sales will be first come, first served.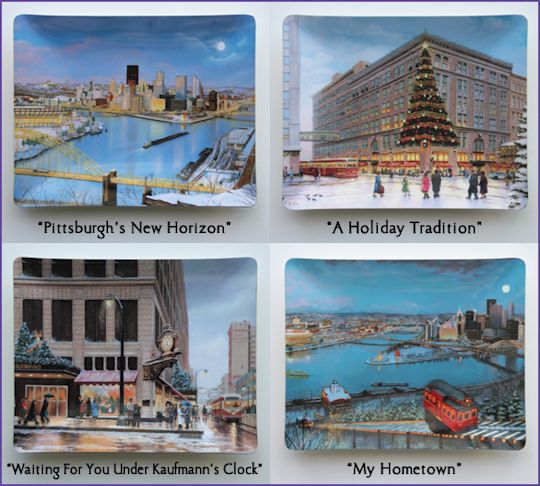 If you would like tickets to the event, I have some available, or you can get them at the door. It's a great time to get a jump on holiday gifts and support a worthy cause! Hope to see you there!
P.S. – I will also have prints available at the event of all of my 2014 paintings, including:
"Show Time by Kennywood's Paratrooper"
"Winter's Glow on Grant Street"
And my newest painting, "Holiday Greetings from My Hometown."
Visit my prints for sale page, to see the entire collection.
To make sure you always receive the latest information about my new paintings and all of my holiday appearances, please take the time to sign up for my weekly newsletters. CLICK HERE to become a subscriber. When you sign up you will also receive a FREE slideshow showing the step-by-step development of my painting, "Celebrating Time and Tradition at Macy's".