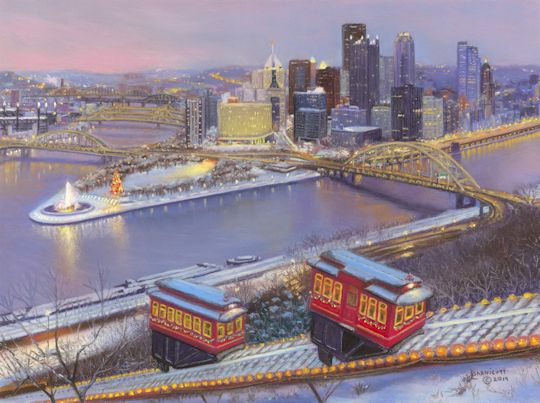 One question that I'm asked a lot at my speaking engagements is, "Which painting is your favorite?" That's not an easy question for me to answer, because I love all my paintings for different reasons. Of course, I do have a few special favorites, and "My Hometown" is definitely one of them because of the wonderful memories I associate with it.
Back in our younger days, Tom and I lived on the North Side of Pittsburgh when he was just starting his ministry, and we spent 11 happy years there together. When I painted "My Hometown," I wanted to make sure every building I could see on the North Side was in that painting, including the top of our church on the corner of Madison and Tripoli. "My Hometown" was the largest pastel painting I had ever completed at that point (21″ x 27″), and it took me six months to paint back in 1992.
Now 14 years later, I'm "returning to My Hometown" and painting the Duquesne Incline again to benefit Breathe Pennsylvania, a charity that provides support for COPD and asthma patients. The new painting is the fourth in the series of prints I've created for them.
This time, the plan was to show the city from the same vantage point, but in the Holiday Season with a wintry landscape, softly illuminated by the glow of the city lights and the tree at the Point. I also wanted to show the incline cars (with an added touch of holiday bling!) passing each other on the hillside. However, this required a little bit of Artistic License – In real life, the cars pass each other at a different point on the slope, so I would have had to climb partway down Mount Washington and probably hang from a rope line to be at the appropriate spot. Fortunately, as an artist I can create that effect without mountain-climbing equipment!
I've thought long and hard about a title for the new painting, but I had to make a final decision because I'll be unveiling this piece to the board of Breathe Pennsylvania next week. I am entitling it "Holiday Greetings from My Hometown" in honor of the original painting created in 1992, and to recognize that it's a holiday print for this series. The painting will also be made into a ceramic ornament, and both the print and ornament will be available soon.
As always, I'm giving my loyal readers the first look at the new painting! Here below are the sketches showing some of the steps of its creation, and the image at the top of this email, of course, is the finished piece.

What do you think? I would love your feedback on both the painting and the title!
Why not take the time to sign up for my weekly newsletters now. As a subscriber you will receive information about all of my fall and holiday appearances, my latest paintings and special offers only for subscribers! CLICK HERE to sign up. You will also receive a FREE slideshow showing the step-by-step development of my painting, "Celebrating Time and Tradition at Macy's".