At this time of year, I often wish I had a clone! Instead, I have the next best thing – a wonderful family who devotes a lot of their time to helping me bring my art to you for yet another holiday season. Which will definitely come in handy this weekend, as I have four shows… two of them overlapping!
It all begins on Friday, when I'll be appearing at the Southpointe Hilton Garden Inn Ballroom for the Giant Oaks Garden Club's Holiday Event, "Believe." Shopping begins at 9:30 a.m. and goes until 3 p.m.
Then on Saturday, my daughter Brittany will take my place at the Edgeworth Club in Sewickley for the 14th Annual "Unique Boutique," benefiting the Heritage Valley Sewickley Foundation. I absolutely love this show and would definitely be there if I could. Show hours are from 10 a.m. to 4 p.m. If you're in the area, please stop by and say hi to Brittany. She'll be happy to match you up with the perfect art or giftware for the holidays! If you would like to have it personalized, we can catch up at another event or at the Holiday Market Chalets downtown later this month (or perhaps at my studio in Bethel Park).
So where will I be on Saturday? I'll be in my own neighborhood at this year's "A Christmas Affair" at the John McMillan Presbyterian Church (875 Clifton Rd, Bethel Park, 15102) from 9 a.m. to 3 p.m. This is an amazing show, with wonderful arts and crafts displayed in a beautiful church setting, filled with the spirit of Christmas. I'll be there signing, with lots of my giftware and paintings for sale.
Sunday is definitely not going to be a day of rest for me this week! I'll be at the Old Allegheny Shoppe in Whitehall (4755 Clairton Blvd, Pittsburgh, PA 15236) for an artist signing from noon to 4 p.m. If you love a country Christmas, then you must come check it out – you won't find a prettier shop anywhere! Kathy and her staff are masters of design who make you feel right at home in every room, each one decked out in holiday splendor. In fact, one year I bought all the decorations right off an entire mantel and took it all home and reassembled it on my own mantel! Come see me there on Sunday, and I'll be more than happy to sign my work for you.
As you can see, this is going to be a super busy weekend for me, but I'm just doing what I love to do! I hope I'll see you at one of my events. Happy Holidays… a little early!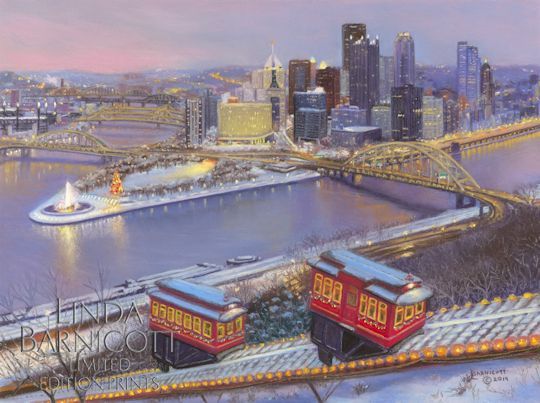 PS – My new painting, "Holiday Greetings from My Hometown," will be on display at all of these weekend locations. If you can't make it to one of my appearances, you can order prints or holiday giftware from my website.
Why not take the time to sign up for my weekly newsletters now. As a subscriber you will receive information about all of my fall and holiday appearances, my latest paintings and special offers only for subscribers! CLICK HERE to sign up. You will also receive a FREE slideshow showing the step-by-step development of my painting, "Celebrating Time and Tradition at Macy's".