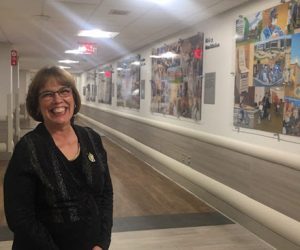 Yet another action-packed week as the holiday season gets underway…
This week marked the final chapter of an art commission that I've literally been working on for years. Remember the Forbes Hospital Project? The one I used to mention but couldn't share much about it because I was sworn to secrecy. I was commissioned to paint five panels that told the story of Forbes Hospital, its history and its people, and Monday evening I attended a celebration at Forbes Hospital in Monroeville for the great unveiling!  I was really excited but so nervous, as I was asked to get up and speak about each of the panels as they were revealed.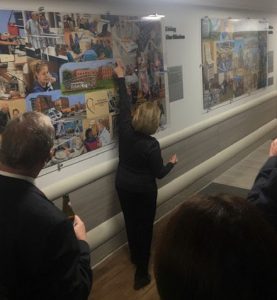 Today I received an email from the hospital that meant so much to me:
"I told you I would drop you a note in a few days to provide some feedback.  I am happy to say that I have heard nothing but rave reviews!!!  There has been so much excitement and conversation outside my office and many of our staff have poked their heads in to let us know how wonderful it is!  Employees are commenting on the beautiful pastel colors, the talent of the artist to sketch to such likeness and they seem to really like the story that it portrays.  I hear laughter and "I remember him… what was his name?"
Thank you for your passion and dedication to this project, Linda.  You did an amazing job!"
So now that the hospital project is put to bed, allow me to update you on another big project of mine that I've been teasing for a while…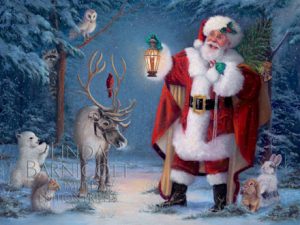 Speaking of Big Reveals… "Santa's Woodland Christmas" is finally finished!  Soon it will be available for sale on my website, but in the meantime, I wanted to show you how well it turned out. I hope you like it as much as I do!
At this time of year, I don't have much time to relax. This weekend, I'll be out and about for holiday shows.  On Saturday, November 9, you can come see me at the Holiday-A-Fair at Bethel Presbyterian Church in Bethel Park from 9 am until 3pm.
Then on Sunday, November 10, from 11 am to 4 pm, I'll be joining Wendell August Forge in Grove City, showing my art and gifts to help them launch their holiday season.
One of my newest events – one that was very successful last year – my Second Annual Open House/ Trunk Show is scheduled for the weekend of November 15-17 here at my home Gallery-Studio in Brentwood. (Final details on that soon!)
And then… hard to believe it's almost here already – just a few days after that is Opening Day for the 2019 Holiday Market in Market Square on Thursday, November 21!
It's a crazy time of year, but I love it!
I love painting memories that bring happiness to your heart, and I hope you'll want to share my art with your family and friends in this holiday season and the coming year. I'm always happy to personalize each and every gift and sign and date the art to help make it extra special.
So as you're making your Christmas or Holiday gift list, I hope you'll stop by one of my shows to say hello and allow me to be of service to you.