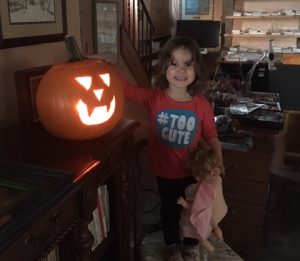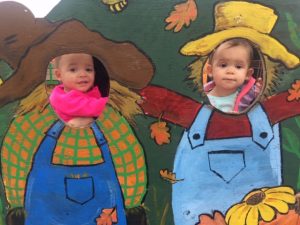 I hope you're enjoying Halloween so far. I'm getting ready to spend some time with my granddaughters today – Halloween is always such a fun and exciting day for the little ones (and some of us big ones, too)! Our little Aria started at a wonderful preschool this week, and they are having a Harvest Festival.  That being said, I can't believe Aria is already going to preschool – and that our Twins are already 15 months old! And I thought time flew when my kids were growing up…
I can't wait to return to John McMillan Presbyterian Church this Saturday, November 2nd, for their Christmas Affair craft show. It's always a fun day with lots of great gift ideas for the holidays. Saturday is also the release date for my new painting, "Santa's Woodland Christmas!"  The show is happening from 9am to 3pm on Saturday at 875 Clifton Road in Bethel Park (15102).
If you come visit me at the Christmas Affair, you can see all of my cool new gift ideas I've created this year, including the new limited edition throw blanket based on the very first painting from my Jolly Old Elf series, "Shhhh!"  As I said, it's a limited edition piece, and it's only available this holiday season on a first-come-first-served basis.  Most of the blankets have already been sold, but I do have just a few left… so why not stop by and get yours on Saturday?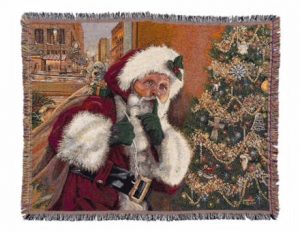 As the holidays get closer and closer, I get busier and busier. This holiday season, you can keep up with my show/exhibition schedule with my new updated calendar – just look on my Events Page. I'll be out and about practically every day from now until New Year's Eve!
Speaking of busy… with so many work and family obligations, I know how hard it can be to get out to shop or come see me at my shows.  So I've made it super-easy for you to purchase my art and gifts online.  Among the new features on my updated website, the Magnets page now lets you select a set of any 5 magnets of your choice. These strong and beautiful magnets are just the thing for your refrigerator art gallery (or any other magnet-friendly surface).  They make great little gifts and stocking stuffers! Check them out on the Collectibles page.
Next week I'll have more information about my Second Annual Holiday Trunk Show at my new Home Gallery and Studio on November 15, 16, and 17.
Happy Halloween… and have a great week!