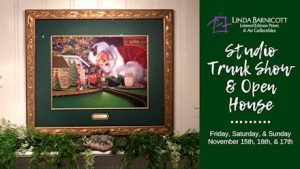 My Studio Trunk Show and Open House is back!
Last year I held an event where I invited my subscribers and customers to come visit my studio/home gallery… and with deep discounts and special sales of my artwork and giftware to boot! The feedback from the attendees was so positive (and I had such a fantastic time hosting it!) that I've decided to make it an annual event.
This year's Open House event will take place at my new home/studio in Brentwood on Friday, Saturday, and Sunday, November 15th-17th.
Items for sale will include everything from originals, prints, and gifts to one-of-a-kind pieces, including some of my "odds and ends," and even "scratch and dent" pieces!
There will be something new each day… and here's what you can expect:
Friday (November 15) is Preview Night.  From 7 PM to 9 PM, you can take 20% off any and all merchandise in the show – INCLUDING ORIGINALS!  (Excludes pieces already discounted as "Super Savers.")
Saturday (November 16) is Incentive Day.  Come visit and browse from 10AM to 1PM to take advantage of percentage discounts – the more you spend, the greater the savings!
Feeling adventurous? On "Mystery Sunday" (November 17), I'll be featuring unadvertised Mystery Specials that won't be announced until the day of the show.  Stop by between 12 PM and 3 PM for some amazing deals!
I'm so excited about my Second Annual Trunk Show and Open House! Hope to see you there…