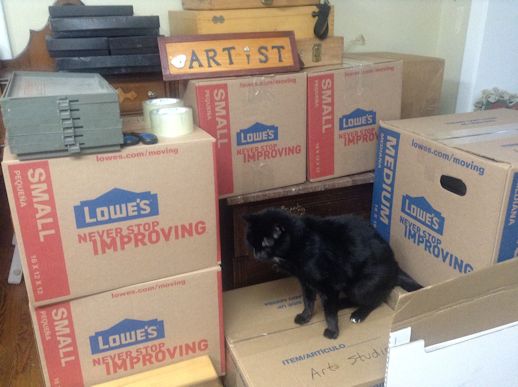 Tuesday is Moving Day, and would you believe I'm still packing boxes? I'll probably be throwing things in boxes up until the trucks take it all away!
At least my studio is all packed up. Knowing that's taken care of, I can focus on the good things that will be happening next week! Not only will Tom and I be moving to a new home, a new congregation, and a new adventure, but just two days after the big move, I will be exhibiting at the Westmoreland County Arts and Heritage Festival. The Festival takes place at Twin Lakes Park in Greensburg from July 3rd through July 6th. Hours are from 11:00 AM to 8:00 PM each day. I hope you'll come see me at booth number 94! For more information about all of my upcoming appearances visit my website's Calendar of Events at www.lindabarnicott.com/events
I've even purchased a brand-new, non-leaking booth to display my art as beautifully and safely as possible. If you come see me at the Festival, you'll get the "Full Monty!" – all my available artwork will be displayed! So if you need a gift for a special occasion, or if you want to add to your collection, please come check out my first-ever appearance at this new show. In fact, I may need you to look in on me just to do a sanity check after Moving Week!
As an added bonus, if you visit me at the Festival, I'll show you how my new Kennywood painting is coming along!
So not only will I be exhibiting in a new venue, but I'm also excited to tell you about more big changes that are coming to my business. I did mention to you last week that I will begin accepting private students this summer in my new expanded studio. But that's not all… Once I get set up in my new Bethel Park studio, I will also begin taking commission work once again. Due to my busy schedule painting city scenes, Kennywood, landscapes, etc., not to mention raising two amazing daughters, I didn't accept commission work for many years. However, now I'm a liberated empty nester, and it's full speed ahead! Bigger and better things are coming, and I hope to soon show you some unique work from new directions.
So while you're out and about on these beautiful summer days, and you're visiting your "special" place, I hope you'll consider having it immortalized in a painting made in pastels. Think of how cool it would be to own a permanent keepsake of your most precious place on earth… a treasure that will last a lifetime.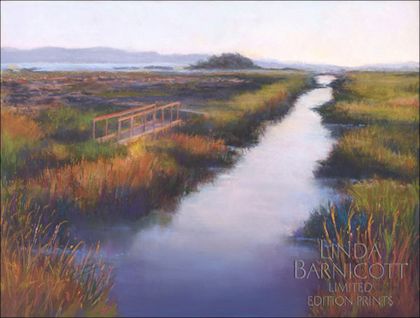 As always, the very best to you… And please say a special prayer for me on Moving Day!
P.S. – My office phone (1-888-PITT-ART) will be down for one full day, from midday on July 1st to around midday on the 2nd. My new address as of that day will be 326 Turngate Drive, Bethel Park, PA 15102. I'm looking forward to fulfilling your art needs from my new studio!
To make sure you always receive the latest information about my ever-changing life, please take the time to sign up for my weekly newsletters. CLICK HERE to become a subscriber. When you sign up you will also receive a FREE slideshow showing the step-by-step development of my painting, "Celebrating Time and Tradition at Macy's".