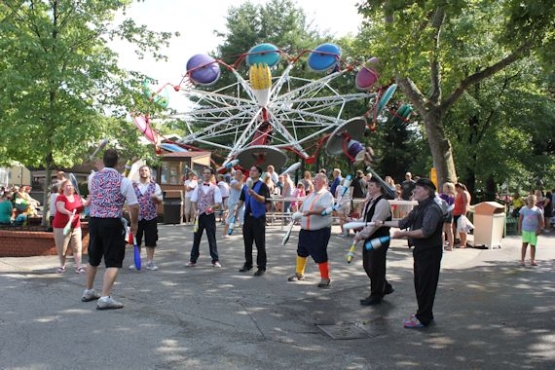 Just one short week ago, I was in Yosemite National Park, painting beautiful waterfalls and trees. Now I'm back to reality, which this week means packing up my studio and home.
Fortunately, it's not all work and no play because I'm also working on a new Kennywood painting! As you may have guessed from the picture above, the Paratrooper is the latest subject in my Kennywood collection.
The Paratrooper has a special place in my heart. It was a favorite ride for Tom and me when we were dating, and especially in later years when we rode it with our children by our side. I can close my eyes and remember the amazing feeling of flying through the air with the breeze on my face and how we would try to kick the leaves as we passed close to the tall trees.
I don't have much to show yet, but check out this photo of me sketching the scene! Just let your imagination fill in the blanks and see how close you are to what it will actually look like…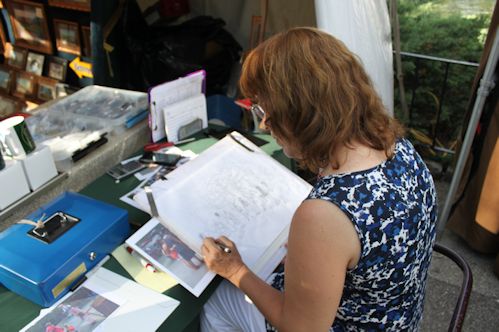 For the past 18 years, first for Grand Victorian Days, then for Celebrate America, I've had my art booth on the lagoon just across from the Paratrooper. And every year, I've enjoyed the wonderful performances by the Kennywood Entertainers – the guys and gals from across the country who come together to perform for park guests throughout the festival. I've been very fortunate to enjoy their shows directly in front of my booth, and sometimes they've even included me or my family in their performances!. Though they appear at Kennywood only once a year, this multi-talented group is an important part of my "Kennywood Experience."
Unfortunately, this year I'll miss Kennywood's Celebrate America Festival because we'll be in the middle of our move to Bethel Park. The good news is that I was invited by the American Coaster Enthusiasts (ACE) to unveil the painting at KennyKon, a special event that will take place at Kennywood at the end of July. The painting will be officially unveiled and available on July 27th as a limited-edition giclee print (Only a small number of prints will be sold).
If you are not already on the list to receive my weekly newsletter, and if you want to get a sneak peek of this painting in progress, CLICK HERE to become a subscriber. I hope you will enjoy watching it evolve from a rough sketch to a finished work of art!
And, when you become a subscriber and one of my special collectors, you will also be among the first who can purchase a print before they're available to the public. Just call me at my studio, (412) 372-3200, or email me info@lindabarnicott.com, and I'll save you a copy!