Now that I'm finally finishing up all my orders from the Home and Garden Show, it's time to turn my creative efforts to new projects – and that means new paintings and more shows!
First on my agenda this year is a new painting of a unique Pittsburgh landmark as it celebrates its 125th Anniversary. The Allegheny County Courthouse and Jail was designed by legendary architect Henry Hobson Richardson and built in the 1880s. It's located on two city blocks between Grant and Diamond Streets and Forbes and Fifth Avenues. I'm pleased to announce that this painting will be the 2014 Holiday Card for the American Cancer Society.
I will be sharing this painting's work-in-progress with everyone who is signed up for my newsletter. If you are not getting my newsletters, Click Here to sign up to see works-in-progress, receive art tips, stories behind my paintings, and regular updates on upcoming shows plus FREE offers!
If you're looking for something fun to do this weekend, you can see 10 of my original pastels at the new Bryant Street Limited store and gallery at 5910 Bryant St. in the reinvented Highland Park business corridor. While you're there, be sure to check out their beautiful clothing and giftware. Just call (412) 362-2200 for business hours. The art show ends March 31st, so hurry in to see the real deal… and tell Stuart I sent you! Highland Park is also a great place to dine out while you're in the neighborhood!
As you celebrate the arrival of spring, I hope you'll remember me when you have special occasions – birthdays, graduations, anniversaries, etc.! I will be happy to personalize each purchase for you and make it a meaningful personal gift.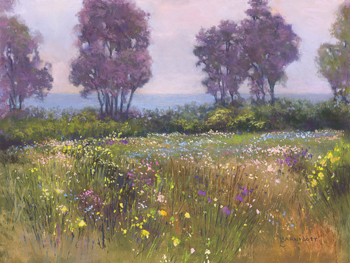 Image size – 12" x 9"
Archival Giclee Print – Retail $60.00