Linda Barnicott
Capturing Moments and Making Memories
Art Calendar Magazine, March, 2008 Edition
by Kim Hall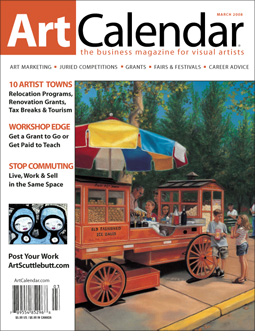 Several years ago, my grandmother, who lives just outside of Pittsburgh, Pennsylvania, where I grew up, sent me a newspaper clipping about a local artist who was making a name for herself by creating charming pastel chalk portraits of iconic locales throughout the city. What struck me about the work was that nearly every piece jogged a special memory for me. It wasn't just the places the artist based her images on. It was the feelings she was able to capture about those places.
Though her originals sell for between $6,500 and $8,500 each today, her reproductions and collectibles are owned by thousands of Pittsburgh-area residents and visitors alike. Rich colors, pleasant nostalgia and a generally happy feeling exude from each work. But it's the sincerity of this award-winning, self-published entrepeneur/artist, her desire to resurrect and preserve memories for the thousands of people who know and love the Pittsburgh area so well, that makes Linda Barnicott so special, both as an artist and a businesswoman.
Just moments after I called Pittsburgh artist Linda Barnicott to see if she'd like to be featured in Art Calendar this month, she chimed in with the loveliest opening comment I'd ever heard in an artist interview: "I'm having so much fun!"
It doesn't take long to realize that Barnicott is having fun, with her art and her business. The wife of a pastor and mother of two girls, she loves people, and that's who she creates her work for.
A portrait artist by trade, Barnicott's first official Pittsburgh-focused piece was "Meet Me Under Kaufmann's Clock", done in 1989. Any Pittsburgher can tell you that Kaufmann's Clock is a well-known landmark on the corner of a busy shopping district downtown.
"After I did the painting, I was invited to sign at a gallery, and this big tall guy comes in — a lawyer — and says he has to get this painting. His mom had passed away, and he told me that when he was old enough, his mother brought him downtown and said, 'You can walk around all by yourself, but meet me back here under Kaufmann's Clock at 1 o'clock,'" she says, remembering how the lawyer's eyes welled with tears as he told the story. "Painting city scenes is like creating portraits for people. What I loved about doing portraits was that personal connection. And I made a personal connection with this lawyer because it created a special memory of his mom. I never drew a building before that point. But it actually started my career."
With the mentoring of a neighbor artist, who helped her understand perspective drawing, Barnicott began to create more images of the city. She wasn't a native of Pittsburgh, having moved there when she married her husband, Tom. So her initial images were of the places she remembered most, places she'd been with her Tom, who is, interestingly, a staple figure in each of her works.
In fact, nearly all of the figures Linda features in her paintings are based on real people. One painting, called "Kennywood's King of Coasters", a piece from a series of works based on the popular century-old amusement park in Pittsburgh, features more than 50 friends and family members, as well as Kennywood employees, such as security guard Larry Ross. An intimidating figure at first glance, Ross approached Barnicott with folded arms and a stern look while she was exhibiting at the Kennywood Victorian Festival. He asked, "Why don't you have any security guards in your paintings?" She replied quietly, "Would you like to be?" So Barnicott put him in one. While you may not know his name, if you've gone to Kennywood, it's likely you've seen Larry Ross on one of your visits. That simple act creates a real connection to Barnicott's piece.
"That was a sold out edition before I sat down to paint it," Barnicott says. "The picture I did of the carousel was another great experience. I loaded the carousel with all of our friends and took pictures. It started a whole transformation in how I did my painting. From that point on, they were real people doing real things."
Since Kennywood is a privately owned company, Barnicott did have to ask permission to create images of the park, but Kennywood has embraced her, inviting her to show her work at their Grand Victorian Festival each year and carrying her work in their gift stores. "Kennywood has been very, very kind in letting me do this," she says.
Barnicott's favorite Kennywood painting is "Coasting Through Kennywood", as it captures some very personal memories for her. "My husband and my girls are in the foreground and on the right side of that work, and Tom just about proposed to me in that spot," she says. "A lot of things in the painting mean a lot to me. Kennywood was my first official Pittsburgh date. As we were traveling to the park, Tom pretended he got lost on his way to Kennywood. After I asked if he should stop for directions, he turned the bend and there was a huge Kennywood sign across the street. I was always fond of Kennywood because of that."
With thousands of other people fond of Kennywood, as well as so many of the other places Barnicott has captured, it's no wonder that she has such a following of collectors, from those who purchase her giftware, such as magnets and ornaments, to those who purchase the limited edition reproductions. Rather than lithographs, the new reproductions are giclêes, featuring archival paper and archival ink, capturing the texture of Barnicott's pastels. While her reproduction runs are higher than most limited editions, numbering between 500 and 1,000 each, Barnicott thought it was important to give more people an opportunity to own her work at an affordable price. Sometimes, her editions sell out before she sells the original.
"When I would paint portraits, the paintings always left the house, and I would never see it again," she says. "It's benefiting one person, one family at a time. When I did "Meet Me Under Kaufmann's Clock", I realized I could affect thousands of families. And so, the limited edition reproductions were a wonderful way to do that."
Today, Barnicott sells her work through a number of galleries and gift shops throughout Pittsburgh, and on her Web site, but says many of her best sales come from the annual Pittsburgh Home and Garden Show, where she will be selling and signing March 7 through 16. "I'm there all 10 days. I bring a gold pen with me, and I sign things for people. And people always seem to like that," she says. "I love meeting people and talking to people.
It's funny because when I was 26 I decided to make art a career. I think I tried selling Avon. I know I tried selling Amway. I couldn't sell anything. I felt very uncomfortable selling, but when I started doing my artwork, I was comfortable because your art is so much a part of you. When I sell, I can help others with ideas on how to use the work. A lot of time people have visitors coming in from out of town, and I tell them, 'You can give this as a gift.' I have to say one of the neatest things for me is a lot of times people will send me thank you notes. People may have bought a work elsewhere, from a gallery or received it from a friend. But I've saved every thank you note I've ever received. It's just meant so much to me to know I'm doing something to make people happy. My husband is doing ministry in a wonderful, wonderful way. It kind of feels like I'm doing ministry, too."
Each year, Linda Barnicott donates one image for holiday cards for the American Cancer Society, and has helped them raise more than $500,000 for cancer research through card sales. Last year, she won one of just two Forbes Enterprise Awards for artist entrepreneurs living in the Pennsylvania, New York or New Jersey areas for her self-publishing business.
For more information about Linda Barnicott's work, visit www.LindaBarnicott.com, call 1-888-PITT-ART , or visit her booth (#3146) March 7 through 16 at the Pittsburgh Home and Garden Show.