Artwork recalls Mazeroski's immortal home run
Pittsburgh Post Gazette, March 3, 2004
by Diana Nelson Jones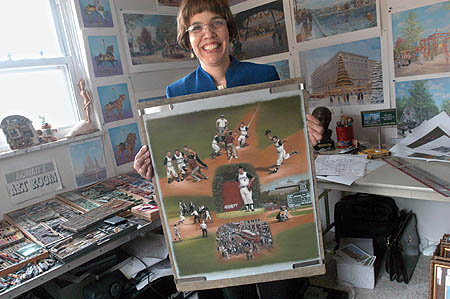 Bill Mazeroski stands at second base, his gloved left hand on his hip, at the center of Linda Barnicott's latest pastel. He is encircled by scenes from that Oct. 13, 1960, afternoon.
Barnicott, a Green Tree woman who has earned a reputation for her renderings of Pittsburgh scenes, was enticed when she saw a friend's copy of the newspaper from Oct. 14, 1960. In a six-panel progression, Mazeroski was rounding the bases on his World Series-winning home run against the New York Yankees.
e newsprint was brown and the images were grainy, but the opportunity was clear to Barnicott — to bring those moments into living color.