Barnicott Has Done More Than 50 Pittsburgh-Area Paintings
Monroeville Times Express, March 11, 2010
by Jonathan Weaver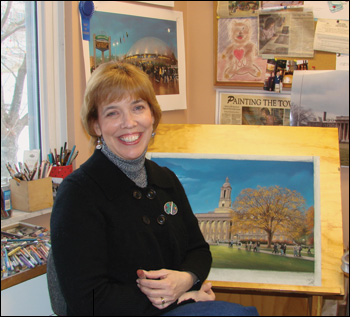 Pittsburgh "Painter of Memories" Linda Barnicott has seen her fair share of the city and has boxes of photographs, many of which she has transformed into paintings that hang on family members' and friends' walls, to prove it. Photos from different places, months and angles all have found their way to her brush.
Linda, 51, of Monroeville, began sketching portraits of teachers in second grade and moved onto others from there. Though classmates knew her as only the shy, quiet girl, Linda drew classmates and teachers constantly during elementary, junior high and high school. Her first portrait sold her senior year, when she sketched a portrait of a friend's girlfriend for $2. Now, Linda paints Pittsburgh, and this week, she is displaying her work at the Duquesne Light Home & Garden Show at the David L. Lawrence Convention Center, Downtown.
With more than 50 Pittsburgh-related paintings completed and thousands of prints sold, Barnicott said she cherishes one the most and will not let the original sell: "Coasting Through Kennywood." After painting it in 1997, Linda was preparing to sell the original but called off the sale after remembering all the internal aspects that mean so much to her. It depicts friends from New Jersey; a boat with the number 22 on it, which stands for her husband's employee number when he was a shoe salesman when they met in 1975; and the location where the couple almost got engaged in 1977. "That painting just has so many meanings for me that I just couldn't sell it," Linda said. "So, I get to keep that one." Only prints and note cards of the painting are available.
Linda always puts her family in her paintings – her husband, the Rev. Tom Barnicott, 53; and daughters Brittany, now 23, and Alyssa, now 18. The artist said she incorporated Tom into paintings from the start and painted her daughters starting with the "Romance of Kennywood" series. While Linda was signing at a gallery and developing her third Pittsburgh painting, 'Wishing Under the Horne's Tree,' in 1990, fans kept asking where Tom would appear next. She hadn't realized fans were tracking him. After telling Tom that evening, he rushed upstairs to put on a raincoat so he could pose for that painting, just one show of support Linda said he has shown. "He is a huge reason why I am successful today because, besides carrying all the artwork from show to show, he has turned out to be a good art critic for me," Linda Barnicott said. "He keeps me honest."
The couple met at an orchestra concert for students from different high schools at Bethel Park High School in 1975. Linda Barnicott was a violinist from Bensalem High School, northeast of Philadelphia. After the concert, they went out for ice cream but didn't speak again until Tom called Linda in 1977. Two months and three dates later, the couple got engaged. Tom and Linda will celebrate their 30th wedding anniversary in October.
"Linda, who said art has been passed through generations on her side of the family, now is passing that appreciation through her daughters, as well. Younger daughter Alyssa, now a freshman at West Virginia Wesleyan College, took after her mother at a young age and dabbled with Linda's paints, just as Linda had done with her father's paints in second grade. Linda remembers Alyssa painting leaves or snowflakes and excitedly saying she was part of the artwork. "After she would paint her little dot, (Alyssa) would say, 'Look, now I did a little for the painting too,' Linda said.
Tom, the senior pastor at Monroeville United Methodist Church, remembers posing in the family living room to be incorporated in Linda's paintings or walking with his daughters at Kennywood Park. He laughs when watching fans look for him in his wife's work, but he knows that is part of Linda's cityscape tradition and authenticity. "It is like Pittsburgh's version of 'Where's Waldo?'" Tom said. "Every painting is a family reunion."
Tom first posed as if hanging up a wreath in Linda's 1989 painting "Meet Me Under Kaufmann's Clock," her first. After prints of that painting sold out in 1991, Linda drew another representation in "Meet Me Under Kaufmann's Clock, Too!" and then another in 2002 for the American Cancer Society, titled "Waiting for You Under Kaufmann's Clock." Prints of the 1991 and 2002 representations also sold out. "Talk about the heart of Pittsburgh," Linda said, referring to residents' passionate memories of the city landmark.
Besides being incorporated into paintings, Linda's family also inspired her to work on some other pieces, including her representation of the Pittsburgh Pirates' Hall-of-Fame second baseman, Bill Mazeroski. While Tom said he loves many of his wife's paintings, one of his favorites is Linda's 2004 work "Mazeroski's Magical Moment." Unveiled at that year's Home & Garden Show, Tom sat with his boyhood idol in person, and the two talked as the second baseman autographed more than 1,000 prints. Tom persuaded Linda to paint Mazeroski and Pirate Roberto Clemente. Knowing she was not a sports fan, Tom said, he told Linda to do the Mazeroski painting as a representation of how his home run made Pittsburghers feel, not as a sports figure.
Linda will be at the Home & Garden Show through Sunday. While Linda is at the show, Tom will try to take afternoons off at the church to help her with the booth. Besides answering questions about her cityscapes, Tom said, he will listen to many painting ideas. Linda said she is grateful to fans – who have become friends – who regularly come to the show to look at her paintings and talk. "It's been a fantastic show for me," Linda said. "I have met some wonderful people over the years. They really are like old friends." Linda plans to paint cityscapes of Duquesne University, the Pittsburgh Zoo & PPG Aquarium, and Phipps Conservatory next, but she is anticipating suggestions from fans who visit her at the home show.
Even though most of her work no longer is in black and white, Tom said, he is encouraging Linda to sketch portraits of Pittsburgh icons; granted, many of his ideas include sports figures, such as Penguin Sidney Crosby or Steeler Hines Ward. "If cityscapes touch you, wait till you see what she does with a face," Tom said.
At the Home & Garden Show
Linda Barnicott is in Booth 3146 during the remainder of the Duquesne Light Home & Garden Show at the David L. Lawrence Convention Center, 1000 Fort Duquesne Blvd., Pittsburgh. At the show, she will be selling limited-edition prints and art collectibles. The show runs 4 to 10 p.m. today, Thursday; 10 a.m. to 10 p.m. Friday and Saturday; and 10 a.m. to 6 p.m. Sunday. Admission is $10 for adults and $4 for children ages 6 to 12. Younger children are admitted free. Fans unable to make it to the show or who want to follow up on her work can visit online at her Web site, www.LindaBarnicott.com, or call 888-748-8278.