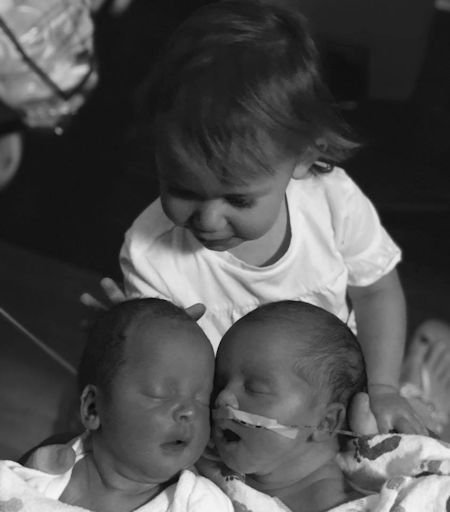 "Your Painter of Memories" has been my tag line for as long as I can remember.
Way back when I was just getting started as an artist, it was all about how I could help preserve your memories by creating a portrait of your special someone. Then as I started painting Pittsburgh landmarks like Kaufmann's clock and Kennywood Park, it began to describe sharing memories of happy times spent with family and friends.
Now my "Jolly Old Elf" series of Santa paintings evokes a different set of cherished memories of the holiday season with imagination and warm nostalgic feelings of childhood wonder.
Obviously, painting is my passion, but sometimes circumstances require putting it on the back burner.
At least my new painting of Santa's Snowy Friends is off to a wonderful start. I'm so glad I got it done before this crazy (yet wonderful) turn of events.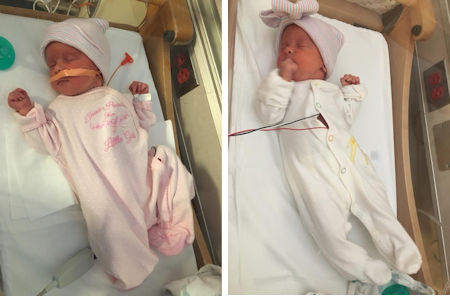 For the last few weeks, it's been impossible to just sit down in my quiet studio and paint. Alyssa's twins, Abigail and Autumn, have entered our lives six weeks early, and big sister Aria has needed a lot of grandparent time. Painting, unfortunately, has been at the bottom of the to-do list these days.
Completing the sketch for this year's big Jolly Old Elf painting has stretched out into a few weeks instead of the few days that it usually takes.
Progress has been slow, trying to schedule creative time between hospital visits, caring for Aria, and helping out as much as we can. I've also been trying to fit in a little time here and there to hang out with my husband on our "Porchville" vacation (Pittsburghese for a vacation where you stay home and do chores).
Oh well… as John Lennon once said, "Life is what happens while you're busy making other plans."
Here's what I have so far – I really hope you like it!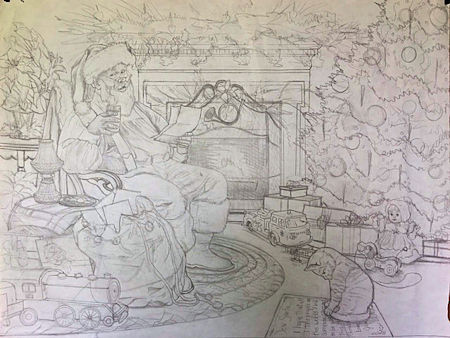 I recently transferred the sketch to museum-quality art board, and I've started to add a little color so I can get a feel for it. It's a little hard to see the detail in the sketch, but I would love to know what you think of it. I don't have a title yet, and the design is still changing and evolving. The actual painting part will be on hold until I'm satisfied with it.
I've had this subject in mind ever since I first imagined the Jolly Old Elf series, and I'm really excited to be bringing it to life at last.
In this painting, Santa is at his North Pole headquarters, sitting by a glowing fireplace with a snack of milk and cookies while he reads his latest fan mail. His favorite tree is decorated, illuminating the room with a soft glow of its own. Christmas Eve is just a few months away, so the room is filling up with gifts for all the boys and girls. With his beloved kitty at his feet, he reads a letter from a very special little girl.
It says:
Dear Santa,
I hope that all
of the people in
the world find
someone special
to be with this Merry
Christmas.
Love,
Aria
I hope to have it ready before the fall show season. Wish me luck!
Enjoy your week…