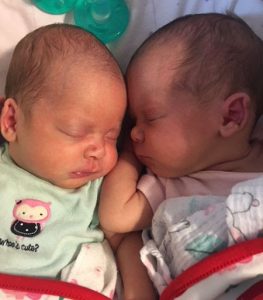 The twins are home!!!
Life is finally starting to settle down a bit since the girls came home on Tuesday. They still seem so tiny, but they're steadily gaining weight. Autumn is almost 6 pounds now, and Abigail is not far behind her.
Here are two of my favorite pictures from Homecoming Day… Abigail in the car seat looking like she's waving and Autumn just looking beautiful. (You'll have to forgive me for being a proud grandma!)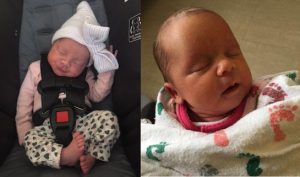 Today Tom and I took Aria to her new favorite place, The Children's Museum! Here she is, showing Bop Bop the finer points of road construction…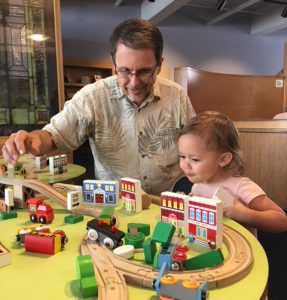 Last week, I put it out there that I was behind on my work and worried about the twins. I was overwhelmed with your responses, and I'll admit some of them even brought me to tears. Your kindness is much appreciated. Your thoughts, prayers, and love in the last month have helped us more than you can imagine, and I thank you from the bottom of my heart.
Now that the twins are home, things are starting to settle down as we get used to the "new normal," but it is still a big adjustment. Though I'm back to working on my new Santa, I still haven't been able to devote full time to painting. Maybe next week I can get more focused!
We're currently in the Dog Days of summer, but of course I'm looking ahead to my lineup of shows in the coming fall season. My calendar is definitely shaping up as I receive my acceptance letters in the mail. I'm also getting my new products in and photographed for my website – you'll be able to see them there sometime in the next few weeks. I believe it is going to be an exceptional year (maybe because I'm so darn happy?).
I look forward to seeing all of you and helping you in your gift decision-making. Please let me know if you have any special occasions coming up where I can be of assistance… and remember, it's not too early to start shopping for the holidays!
Have a great week! And again, thank you!