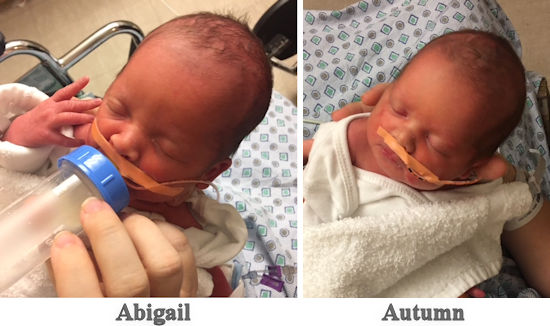 As you know, Tom and I have been eagerly awaiting the birth of our twin granddaughters, originally expected sometime in August.
However, as time passed, our daughter developed more and more complications in her pregnancy. Alyssa was admitted to the hospital, and for the last week and a half, we've been in crisis mode as we prayed for our daughter's life and the lives of her twins. The situation changed minute by minute, with the actions being taken based on the precarious state of her health and the babies' well-being.
Finally, the decision was made to deliver the babies at 34 weeks and 2 days because the stress level was so high, and Alyssa was encountering more and more setbacks. At that point, the risks of prematurity for the babies were outweighed by the threat to Alyssa's health.
So with blessings from above, our daughter gave birth to beautiful twin girls on Monday night. (Things have been so topsy-turvy that I've lost track of time and had to think a moment about when it happened!) Even though the girls are fraternal twins, I believe as of right now that they really look alike! What are your thoughts?
The upside to spending the last couple of weeks hanging around in hospitals is that I've had plenty of time to think about some new gift items I will be introducing for the coming holiday season. I don't have photos of them yet, but there will be a new tray set, a bookmark, and several new ornaments.
Because these are all handmade, they will take about a month to be ready, and there will be a limit on what I can reorder for the holidays. Just a heads-up because once they're released, if you like them, you may want to order early for the gift-giving season. (This is true for all the full color metal pieces.)
You'll find them all under Collectibles at www.lindabarnicott.com
Have a great week, and may your blessings be as great as mine.