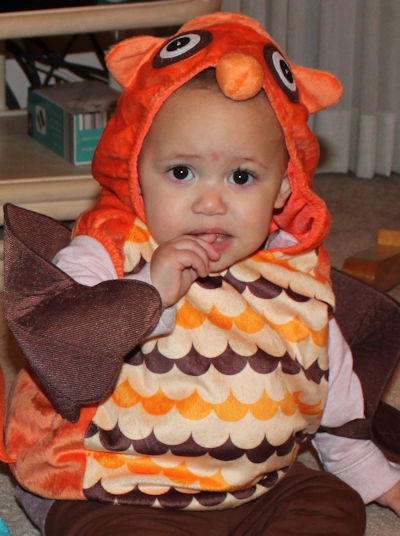 Here we are in November… but I couldn't resist showing off our little Halloween owl . Aria seems to be a bit annoyed, wondering why Mommy made her wear this funny outfit with wings on the arms. But we did let her have a taste of candy, and let me tell you, she didn't mind that part at all!Speaking of Aria, she sure has grown a lot since she modeled for me last fall. She was just 4 months old – the perfect age to stand in for Baby Jesus – when she posed for
"Santa and the Greatest Gift,"
this year's latest painting in the Jolly Old Elf series.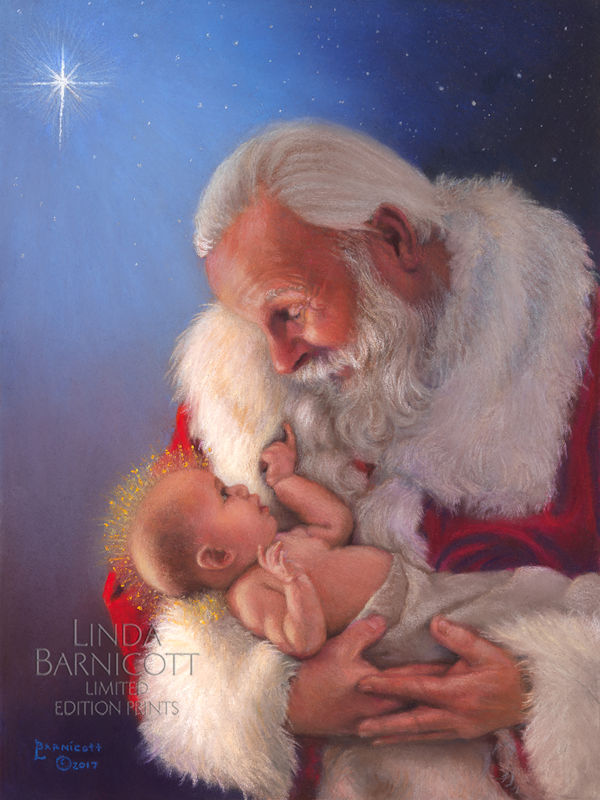 It looks like "Santa and the Greatest Gift" will be my best-selling print of the year! It's now up on my website and available to order online.
And for all of you who are interested in ordering the print of "Santa and The Greatest Gift," I have good news!
For one week only, every order will include a secret gift! The offer is good until Wednesday, November 8th.  You'll be surprised when you receive your print in the mail. Trust me, you'll like it!
Check it out at https://lindabarnicott.com/product/santa-and-the-greatest-gift/. The secret gift is for online orders only – no code is needed.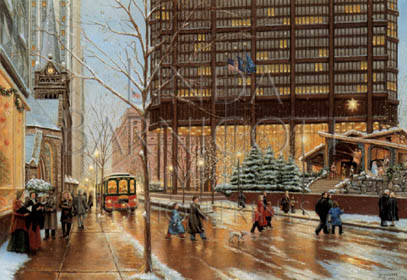 With the new month kicking off the 2017 Holiday Season, I decided to make "Holiday Greetings on Grant Street" November's Original Pastel Painting of the Month.
Back in 2001, I had already created quite a few paintings that became holiday cards for the American Cancer Society. As I searched for inspiration for that year's holiday painting, , I walked up and down Grant Street. My heart was set on painting the City-County Building, and I took hundreds of photos.
But then as I kept walking up Grant Street, I caught a glimpse of the larger-than-life Nativity at the US Steel Tower. I remembered hearing that it was the only authorized replica in the world of the crèche that's on display at St. Peter's Square in Rome.
Well, I fell in love. I walked right into the lobby of the US Steel Tower and spoke with the concierge, Barbara Stull. I remember telling her, "I guess it doesn't matter which side of Grant Street I paint!"
We did the photo shoot on a beautiful day in late May with my models all dressed in their winter clothes. Even Molly's Trolleys came by just to be in the painting. The Dickens singers were actually singing inside the Tower. I just took their photo and magically put them into the painting.
Of course, those photos I took of the City-County Building didn't go to waste… they came in very handy when I painted my last holiday card for ACS in 2014, "Winter's Glow on Grant Street."
P.S. – I'll be the Featured Artist at "A Simple Country Christmas" at the Hilton Garden Inn at Southpointe on Friday, November 3rd from 9 am to 3 pm. I'll be in the main lobby to the left, and most of my items will be available. (1000 Corporate Drive, Canonsburg, PA).
P.P.S. – On Saturday, November 4th, you can come see me at the John McMillan Presbyterian Church for "A Christmas Affair Craft Show."  I'll be there, fully stocked, from 9 am to 3 pm. The church is located at 875 Clifton Rd in Bethel Park (15102).