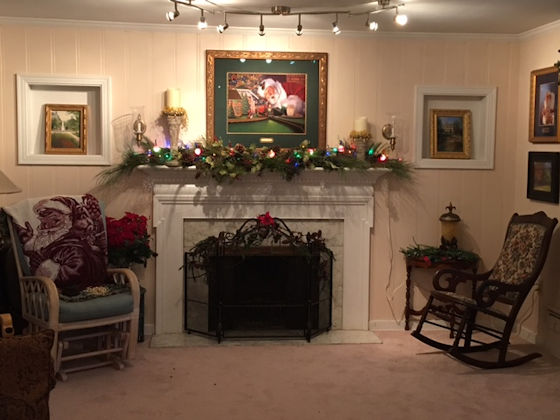 I know it's not even Thanksgiving yet, but if I don't at least get my decorating started before the Pittsburgh Holiday Market starts next Thursday, there's no way I'll get it done in time for Christmas. (Don't judge! Costco's been ready for Christmas for at least a month already.)
Following the hanging of my original painting "All Aboard with Santa" over my mantel the other day, I got inspired to keep going. Tom and I put on holiday music and began to deck the halls! For the first time in a long while, we have to keep the decorations up high – my little granddaughter is about to start walking, and she's very inquisitive. As she gets more confident, nothing below waist level will be safe!
I've also been making a list (of inventory) and checking it twice, gathering together as many of my stock items as possible and getting ready for the holiday shows coming up. (Don't forget to shop early for best selection!).  My show schedule is always available on my website, www.lindabarnicott.com .
Looks like a busy week ahead:
Tomorrow (Friday, November 10th) I will be at Laurie's Hallmark on the second floor at Fifth Avenue Place for Lunch with Santa from 11 a.m. to 2 p.m.
On Saturday, November 11th, I'll be at the Bethel Presbyterian Church Holiday-A- Fair from 9 a.m. to 3 p.m. The church is located at 2999 Bethel Church Rd in Bethel Park. This was a terrific show last year, and I'm really looking forward to it this weekend.
Then comes the BIG ONE…  next Thursday (November 16th) at 4 p.m., I'll be open for business at my chalet at the Holiday Market in Market Square in Downtown Pittsburgh. The hours for Thursday's soft opening are 4 to 8 p.m.
After Thursday, we will open every day except Thanksgiving at 11 a.m. You'll know me because I'm the one with four layers of winter clothing, gratefully accepting donations of hot cocoa from random passersby…
As I embark upon another holiday season, I'm reminded of how grateful I am for all of you and that my art has touched so many hearts. Just listening to the stories of my customers at the John McMillan Church Christmas Affair last weekend truly warmed my soul.
I hope that in this holiday season I can somehow be of service to you.
P.S. –  Original of the Month: "Holiday Season on Grant Street"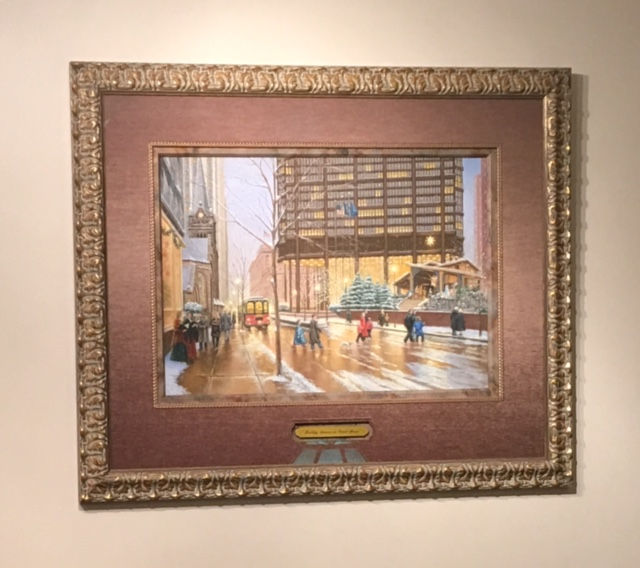 This original pastel has always been one of my favorite paintings, and I'm happy to have it hanging on my wall until it finds a happy home.
When I developed the composition on this painting, I did what only an artist can do – I moved the nativity scene closer to Grant Street so the viewer can get a better look at it. You may also notice that the First Lutheran Church and the US Steel Tower are a lot closer together than they are in real life!
To capture the beauty of the church's stained glass windows, I actually went inside the church during the day and snapped a few photos so I could reproduce those colors in the painting. I wanted to show the church lit up at night with light shining through the windows.
One day I visited the church with my partially finished pastel original in a cardboard box, and of course, the skies opened up, and there was such a downpour that Grant Street was flooded. The minister thoughtfully looked all over the church for a large trash bag that the box would fit in so as to not get this precious painting wet. I'm still very grateful for his act of kindness!
The original pastel painting "Holiday Season on Grant Street" is double matted with a wooden filet (extra wooden frame inside between the mats) and museum glass.  Let me know if you're interested in investing in original art that will last for generations – just call 1-888-748-8278 or email me at info@lindabarnicott.com.