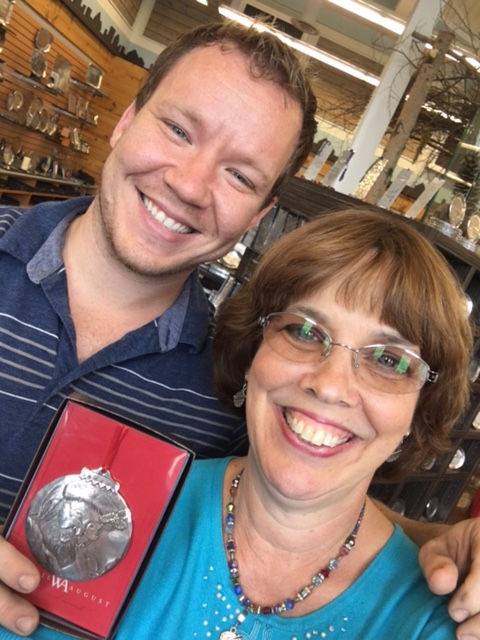 What a week I've had! And it looks like next week will be pretty crazy, too…
Last week I was telling you about my newest painting, "Porsche Fields Forever," and how it was progressing. I wasn't kidding when I said I would be taking it down to the wire! In fact, I was working on that painting right up to midnight, just hours before it was going to be unveiled at the Pittsburgh Vintage Grand Prix.
First thing in the morning, I dashed over to the framer, who was kind enough to open up an hour early on Saturday morning just for me. In no time, the painting was framed (fortunately it was already measured and cut to save time), and off we went to the Vintage Grand Prix! The reception was nothing short of amazing. It seemed like I spent every minute of that first day talking about and sharing the painting. I'll never forget that incredible day and all the great folks I met at the Grand Prix. Soon you'll be able to get a print of "Porsche Fields Forever" for your own collection – I'll keep you posted!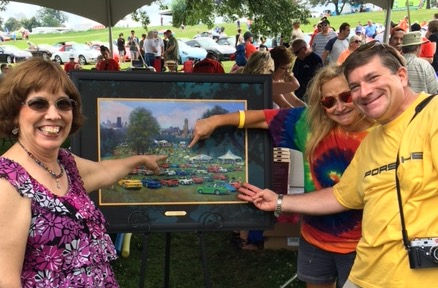 Another amazing experience I had this week is related to the big "Christmas in July" event tomorrow (Saturday, July 23rd) at Wendell August Forge. I was invited up to the Forge on Wednesday, where I met Mike Youngo, who manages all the engraving. He asked if I would like to make the first Santa ornament, and I jumped at the chance!
For the first time, I saw the two engraved dies of my paintings "Shhhh!" and "Santa's Newest Reindeer. I even was able to alter one of them to add more hairs to his beard and fur to his hat. Then I put in my earplugs, and off we went! It was a bit intimidating, but extremely exciting as Mike guided me through the eight-step process of creating my own ornament.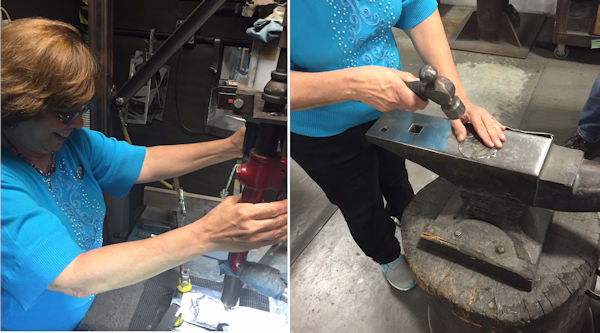 Again, all of this was to prepare for tomorrow's event at Wendell August Forge's Grove City headquarters. And better yet, Santa himself will be joining us as we debut my new 2016 Jolly Old Elf ornaments. I'm delighted to announce that the Forge is going to produce aluminum ornaments of the entire five-year Jolly Old Elf series.
For the first 20 customers, a numbered and signed limited-edition Engravers Series of each of the two ornaments will be available. These ornaments will be signed by the Master Engraver Len and myself… and I bet you can even get Santa to sign them too!
There will be plenty of photo ops with the Jolly Old Elf! We will be there from 11:00 – 2:00 on Saturday at Wendell August Forge's flagship store in Grove City. I'll also have a selection of giftware and paintings for sale. So why not spend a very hot day in a very cool store and meet me in Grove City? CLICK HERE to check out my Calendar of Events for more details about the event.
PS – My latest Jolly Old Elf painting, "Making Magic in Santa's Workshop," will have its public debut at the "Christmas in July" Farmers Market in Market Square this Thursday (July 28th) from 10 a.m. to 2 p.m. I picked up the prints yesterday from the printer, and they look awesome! I will also have a brand new product that I would love to show you… so come down and say hello! CLICK HERE to check out my Calendar of Events for more details about the event.
Make sure you are the first to know about all of my news, appearances and any "special deals" I am offering to my subscribers, by taking the time to sign up for my weekly newsletters now. CLICK HERE to sign up. You will also receive a FREE slideshow showing the step-by-step development of my painting, "Celebrating Time and Tradition at Macy's".