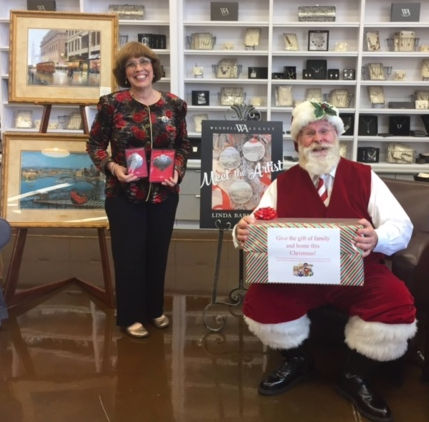 Yes, I know it's the middle of summer, but celebrating Christmas in July gives us a head start on the holidays… and it may even help us forget about the heat!
Despite this ongoing heat wave, it sure seemed a lot like the holidays were close at hand at our big celebration last Saturday with Santa at Wendell August Forge. What a day! It was full of activity and festive fun as we launched the beautiful new aluminum ornaments for my "Jolly Old Elf series".
Santa and I signed so many pieces, our hands were worn out! So many ornaments were sold that we were left with only eight more of the limited-edition numbered engraver's series ornaments remaining. Each one is signed by both Santa and myself and can also be personalized just for you. The last ornaments of this limited-edition series are available on a first-come, first-served basis. Future runs will not be numbered.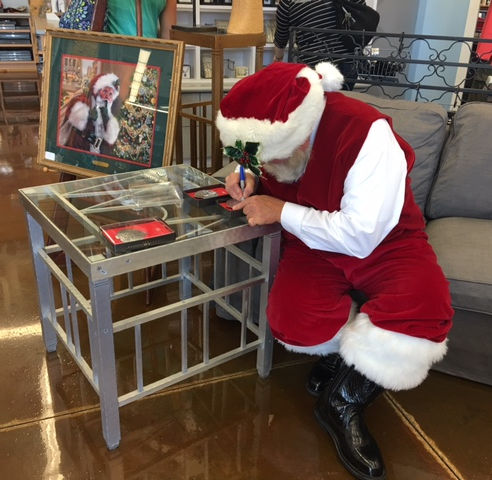 So if you missed getting your ornaments last weekend, where can you get them?
Turns out you're in luck! I'm appearing today at the fabulous Christmas in July Farmer's Market in Market Square from 10:00 AM to 2:00 PM, and I'll be bringing the ornaments with me. If you're near downtown Pittsburgh, make sure to stop by and see me!
And that's not all… Today at the Market Square Christmas in July celebration, I'll also be unveiling a whole new product line for the Santa series!
For the first time, I'm offering an open edition of canvas gallery wraps. I've never done canvas wraps before, but I must say the colors are amazing! These are real archival giclee prints on canvas, stretched on a gallery board, so there is no need for framing… just take it home and hang it up!
Both the Wendell August Forge ornaments and the canvas gallery wraps are so new, they're not even on my website yet. So if you come down to Market Square today, you'll be the first to see them.
P.S. – If you missed the Market Square Christmas in July celebration you can still be one of the first to see and purchase my new and exclusive gifts for the 2016 Holiday Season. My studio is fully stocked with gifts of art for that first of the season shopping experience! Call me at 1-888-748-8278 or email me at info@lindabarnicott.com to set up an appointment to visit and soak up some "holiday spirit" with me.
Make sure you are the first to know about all of my news, appearances and any "special deals" I am offering to my subscribers, by taking the time to sign up for my weekly newsletters now. CLICK HERE to sign up. You will also receive a FREE slideshow showing the step-by-step development of my painting, "Celebrating Time and Tradition at Macy's".