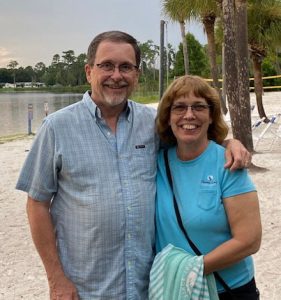 Wow! I was really inspired this week by your comments and title ideas for the new painting I'm working on… one great suggestion after another, each one heartfelt and illuminating. I've put them all together in my head and rolled them around a bit, and now I'd like to run one by you… how about "Santa's Favorite Toy Shop" (or something like that). What do you think?
I never know when I start a piece how it will touch the hearts of others and whether it will resonate with them or not. I promise to give it my best shot so that even if you're not from Pittsburgh or have never shopped at S.W. Randall, you can still appreciate it as a delightful fantasy land for the young at heart. And it would make a great addition to your wall for the holidays!
I promised to update you this week, so I have a little slice of the painting to show you. The details are starting to take shape, and I've added some snow.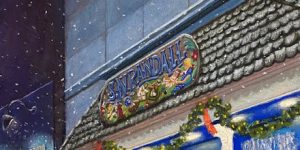 My girls' contribution to this process was to tell me that I needed to soften the expression on Raggedy Ann's face (and I will not share the exact words they used!). My reply was that her face in the actual painting is only ¼ inch in size, so it shouldn't matter. Yet off I go to fix it anyway. My family members are my best art critics – I've trained them well, and they tend to be brutally honest with me!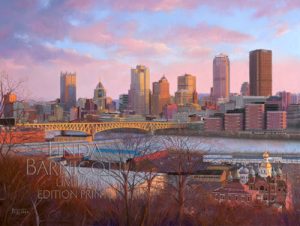 Before I go, I want to remind you that the release date for "Pittsburgh at First Light" is coming soon. If you want to take advantage of the special pre-release price, you have until 11:59 p.m. on September 1st to order your print. Just enter the code FIRSTLIGHT15 at checkout to receive 15% off. It's a one-time opportunity to get this new piece at a reduced price, so it will be just a little bit sweeter when you hang it in your favorite place!
P.S. – We have another painting project going on this week… we're painting our patio furniture. Since we just came back from Florida, guess what colors they are going to be!
Hint #1 – Tom says he wants to be able to look outside and imagine he's on vacation.
Hint #2 – You may need sunglasses when you look at them!