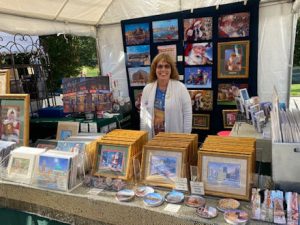 I had an absolutely wonderful time last weekend exhibiting at Fort Ligonier Days! Earlier in the week, we were concerned about rainy weather, but except for a few sprinkles on Saturday, it ended up being pretty spectacular.
I loved seeing many old friends there, and I even was able to meet some of the re-enactors from the fort.  Miss Alex and Mr. Constantine stopped by and told a hilarious story of how he had to catch a runaway chicken. Very believable, right down to his grass stains on his cloak!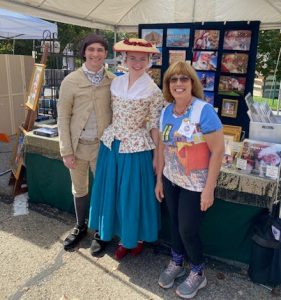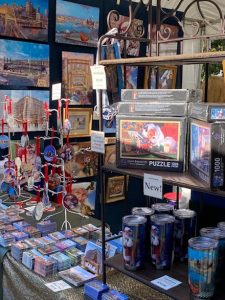 In case you missed it, I've made it a lot easier to build your own custom note card bundles, just in time for the 2021 Holiday Season.
Now you can select ANY TEN note cards for $24 – it's up to you! You can order all Santa themes, select your favorite Pittsburgh scenes… or just mix and match.  Choose ten different cards with your favorite designs, or ten of the same design for a special event or holiday.  Just click on the note cards you want, and the website will build your bundle in the grid on the other side of the page.  Have fun making your selections!  https://lindabarnicott.com/product/notecard-bundle/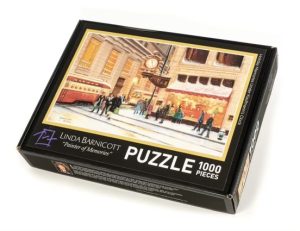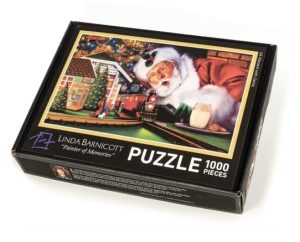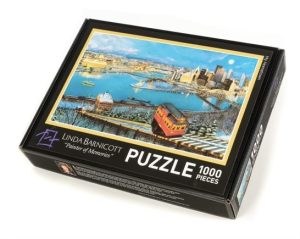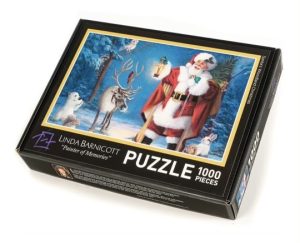 Puzzles, Puzzles, Puzzles! Many thanks to everyone who has asked to be on the waiting list for my four new puzzles: My Hometown, Holiday Memories Under Kaufmann's Clock, All Aboard with Santa, and Santa's Woodland Christmas.  I placed an order for a new batch on Tuesday and hope to have them within five weeks – in plenty of time for Christmas gifts. They're just the thing to help pass those long winter months!
Due to the limited number of puzzles available and because there isn't a pre-order link on my website, if you'd like to get on the waiting list, please drop me an email at Linda@lindabarnicott.com.
Just let me know which of the puzzles you would like and provide your address and phone number so I can get in touch with you when they arrive.  Each puzzle sells for $35.00.
Despite the supply chain issues that have been such a problem lately, I promise you I won't be raising prices this year. There are a few product lines that are being discontinued, and those items – primarily the candles and the handmade color metal pieces from Wendell August Forge – will be available on a first-come/first-served basis.  There may also possibly be an issue with my normal gold framing for the prints, and I'll be looking for an acceptable substitute in the meantime.
The Bottom Line is… Shop Early!