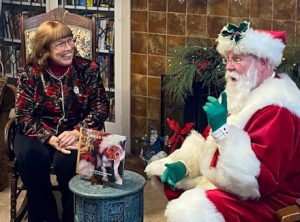 There's a special November tradition in the Barnicott family… and if you listen ever so closely come the First of November, you may hear the sounds of Christmas floating through the air.
Since Tom was just a lad, November 1st was their "official" first day to start listening to beautiful holiday music. When we started a family of our own, we kept that festive tradition of reflection and anticipation.
It's also around November 1st (with the holidays right around the corner) that Santa shares his calendar with me every year so that I can share it with all of you. Though his spare time this time of year is pretty limited, he still comes to visit with the children of Pittsburgh at the People's Gas Holiday Market and the Heinz History Center. This is a perfect opportunity to have your family photographed with the Jolly Old Elf himself, whom I've painted many times.  So if you have your children's photo with Santa as well as one or more of my paintings of him on your wall, doesn't that make him the real Santa by default?
(Scroll down to the end to see Santa's 2021 Pittsburgh Holiday Season schedule.)
And speaking of Santa, my 2020 book, The Jolly Old Elf: Santa Claus Paintings by Linda Barnicott, is going to be reprinted in a few weeks; I have only a few remaining from the first run.  Last year I published a short run of the book, but with the pandemic we weren't able to accomplish everything we wanted to.

One of the fun parts that I didn't get to share with you last year was when Santa and I teamed up with some very talented people (including my daughter Brittany) to create a promotional video for my new book.   Santa and I had a wonderful time recounting our memories of creating each painting in the series. You could hear "Lights… Camera… Action!" throughout the evening, as it literally took hours to get enough good footage to develop this two-minute video!
Here's the link to the video: https://youtu.be/gU9C8CkNXDo .
I want to make it as easy as possible for you to get your copy this year, so I've created a pre-order page on my website. Order now for Christmas delivery.
Also, don't forget – I'm discontinuing my color metal pieces and candles this year. Orders will be fulfilled from existing stock on a first-come, first-served basis.
In the meantime, I'll be at the Bethel Presbyterian Church Holiday–A–Fair on Saturday, November 13th from 9 am to 3pm. The church is located at 2999 Bethel Church Road, Bethel Park, PA 15102, and you can find my booth in the auditorium.
Can you believe it's almost here??? I'll be opening the following week on Friday, November 19th at the People's Gas Holiday Market in Market Square in Downtown Pittsburgh. The Market is open every day until December 23rd.  If you'd like to come see me in person, I'll be in the same location as last year (near Starbucks), where I'll be happy to personally sign your purchases.
P.S. – Here's Santa's schedule of appearances at the Holiday Market and Heinz History Center for 2021: