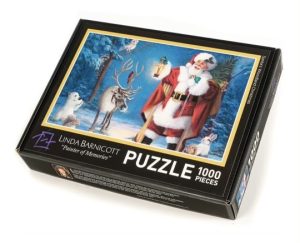 Oh my goodness, what a week this has been! On Sunday I finished up a spectacular show at the Mt Lebanon Artists' Market, and it couldn't have been better! I am absolutely loving the shows this year. Everyone is so happy and very pleasant to talk to as they browse the artists' booths. It's always a pleasure to provide customers with something special for their loved ones (and just as often for themselves!).
For all of you who weren't able to make the show, here's the announcement for my cool new art collectible I unveiled there:
I had been thinking about how everyone was spending much more time at home since the start of the pandemic, and I read that board games and puzzles were selling like hotcakes. Then it occurred to me… why not create some puzzles based on my art?  I decided to give it a try it with two Pittsburgh scenes and two Santa Claus scenes.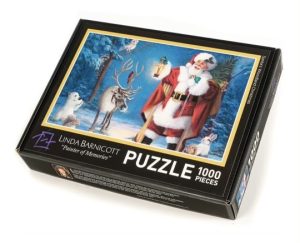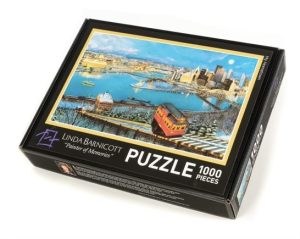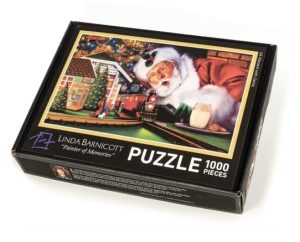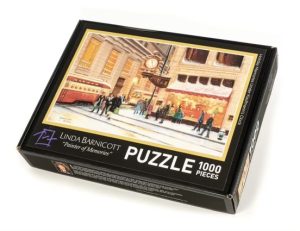 Unfortunately, there was a long delay in the production of my puzzles because of COVID. Earlier last year, I had researched vendors who could make them, but no one was taking new customers, so I had to put that project on the back burner. I learned my lesson, and this year I started earlier.  I met the short window and was able to get my puzzles made.
But it came right down to the wire… they arrived on Friday night (three days ahead of schedule and just in time for the show)! I was delighted to see that they were well made and looked great.
I had started out with a small order of 64 puzzles, enough to make sure they were of high quality.  The Mount Lebanon Artists' Market seemed like the perfect test market for the puzzles. I wondered "Will they sell? What will people think? And how many folks actually enjoy making puzzles?"
It turns out that I worried for nothing – my puzzles were a big hit! In fact, the Pittsburgh scenes are already sold out. I'm bringing what is left of the Santa Claus puzzles with me to Fort Ligonier Days this weekend. I've reached out to the company earlier this week about reordering, but I have yet to hear when they will be available again.  So for now, I'm not going to put them up on my website, but if you'd like to be added to the waiting list, please reach out to me via email, Linda@lindabarnicott.com.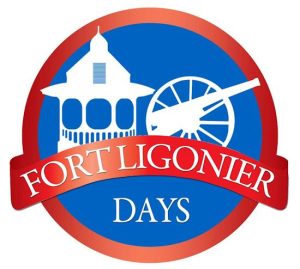 Come see me this weekend!
I'll be at Fort Ligonier Days on Friday, October 8th through Sunday, October 10th. My booth is located in the Loyalhanna Lot, about 1½ blocks down from the Diamond and right above the fort itself. Though I will only have one tent this year, you can find me at Booth 16/17.  Festival hours are 10 – 6 Friday and Saturday and 10:30 – 5 on Sunday. My booth will be well stocked with art and gift ideas for purchase. I hope to see you there!
One More Announcement…
Check out my website for a new product that I've been working on for quite some time – my new Note Card Bundles!  Select any ten cards for $24 to create your own custom bundle. Order all Santas or pick your preferred Pittsburgh scenes. You can mix and match ten different note cards from your favorites or select all ten of the same image.  Just click on the first card you want, and it will build your bundle in the grid on the other side of the page. Have fun making your selections!  https://lindabarnicott.com/product/notecard-bundle/