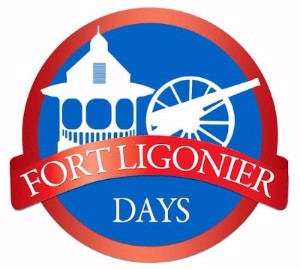 If you ask me "What's new?" this week, you're going to get quite an earful! I can't wait to tell you about all the latest and greatest, and if you come out to Fort Ligonier Days this weekend, you can see it for yourself.
Fort Ligonier Days is a wonderful annual October tradition in and around the historic town of Ligonier. I'll be there all weekend, Friday through Sunday (October 14-16), with a big selection of my art and giftware.
The headliner this weekend, of course, will be my latest Jolly Old Elf painting – Santa's Joyride! I just put the finishing touches on it. But I wanted my loyal readers to be the very first to see it before it makes its grand debut this weekend – here's how it progressed from sketch to finished painting…


So what else is new for this weekend? If you come out to Fort Ligonier Days, you'll see it all!
~ As I already mentioned, "Santa's Joyride" debuts at the festival this weekend. I literally just finished creating the print last night! By this time next week, it will also be available on my website.
~ Five new designs from my line of soy candles from the Sugarcreek Candle Company will be available. I'll even personalize them in gold for you.
~ A new metal art piece created from my painting of St. Teresa of Calcutta, "The Heart of a Saint" (only one is available for the show).
~ Have you seen my new gallery wraps yet? They're really spectacular! Available for the "Jolly Old Elf" Santa series as well as "The Heart of a Saint."
~ New "Jolly Old Elf" Santa series ornaments from Wendell August Forge… this is the perfect time to start to a new collection!
~ Holiday cards and note cards new for 2016 – including "Making Magic in Santa's Workshop" and "Santa's Newest Reindeer." I also will have new note cards of "The Heart of a Saint" – St. Teresa of Calcutta and box note card sets of "Pittsburgh's Shimmering Season" and "Holiday Greetings from My Hometown."
With all these new art pieces and more to come for this season, holiday shopping should be a breeze!
Nothing says Fall like a country outing during peak leaf season. I'll be showing off all my newest creations at Fort Ligonier Days on Friday and Saturday from 9 to 6 and on Sunday from 10:30 to 5 at Booth #16 and #17 in the Loyalhanna Lot.
Why not come out and enjoy the fall leaves and the festivities around the historic fort and the town of Ligonier? Looks like it will be another spectacular fall weekend… hope to see you there!
P.S. – You're invited to attend my artist reception at Courtney-Laughlin Frame Studio and Gallery in Beaver on Thursday, October 20th, from 5:30 to 8 p.m. Santa's taking the day off from his pre-holiday duties to join me for live music with Rick Gilbert (one of my personal favorites!), wine and cheese, and other goodies! Many of my prints and gifts as well as 14 of my original paintings will be available for sale. You can even get a "Selfie with Santa!" If you stop in early and pre-purchase, I'll personalize your art at the event. I hope you'll consider joining Santa and me for a fun evening! CLICK HERE to view my Calendar of Events and find out more about this and other upcoming events.
Make sure you are the first to know about all of my news, appearances and any "special deals" I am offering to my subscribers, by taking the time to sign up for my weekly newsletters now. CLICK HERE to sign up. You will also receive a FREE slideshow showing the step-by-step development of my painting, "Celebrating Time and Tradition at Macy's".