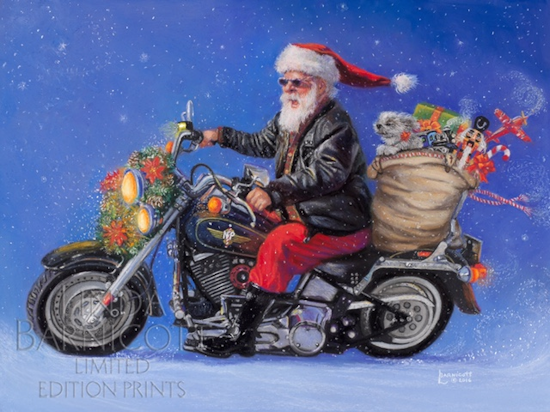 Ever wondered how an artist gets inspiration from their surroundings and turns it into something extraordinary? How do you make the magic happen?
The story of "Santa's Joyride," my new limited-edition print for 2016, the companion print for "Making Magic in Santa's Workshop," is a great example of how the serendipity of everyday life can spark inspiration… if you're ready to receive it!
Back when I was planning out my Jolly Old Elf series, I decided that my theme for 2016 would be the magic and wonder around Santa… but especially the toys! And why shouldn't Santa himself have toys of his own?
It all started the day my muse and model – Santa John – came to my house for an all-day photo shoot, bringing along many changes of clothes and two elves with cameras. We were brainstorming the beginning of the Jolly Old Elf series, and inspiration crackled in the air like electricity.
First, I proposed a painting of Santa golfing. We didn't have any clubs in the house, so I called my neighbor Viv… who just happened to have the perfect golf club – one with a shiny red handle!
Because I was new to the neighborhood at that time, when I returned the golf club, I asked Viv if anyone in the neighborhood had a wood workshop that we could use as a backdrop for another painting. She opened up her garage to show us her husband's workshop, but what really caught our attention was his beautiful vintage Harley motorcycle. My first thought was that it deserved a new painting of its own!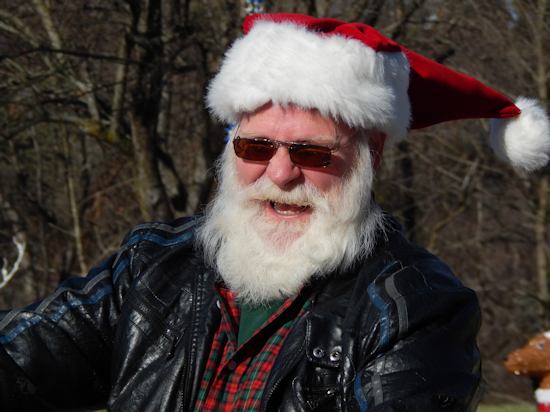 Once we started brainstorming, the creativity really began to flow. Nathan the Elf offered his leather jacket (that just happened to be a perfect fit for Santa). Santa had also brought along a green and red flannel shirt that completed the ensemble. I ran across the street to get a wreath to decorate the headlight.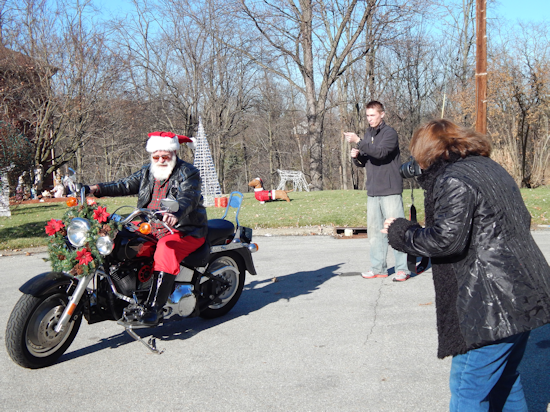 We set up our photo shoot in the cul-de-sac at the end of my street. Someone came up with the idea of tying a string to Santa's hat so that it would look like it was blowing in the wind. (Note the helpful elf in the background holding the string!) We took what seemed like a hundred pictures to get just the right one for the painting.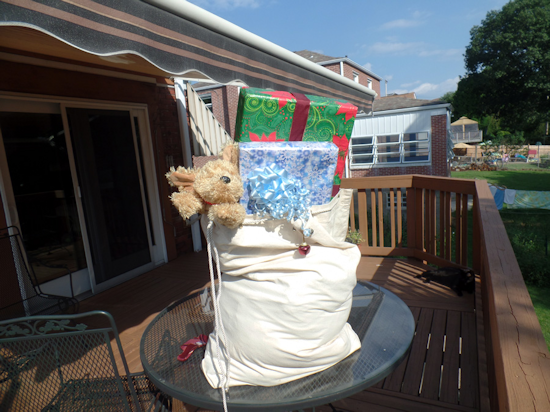 Our next challenge: How to place the toy sack on the bike and what toys to put in it. Santa took a picture of his toy sack with a few gifts in it, but it wasn't exactly what I wanted. I asked myself what toys were my childhood favorites, just as I did to select the toys for "Making Magic in Santa's Workshop," Then I realized what would be the perfect finishing touch to the sack… a puppy, holding on tight, loving the wind in his face.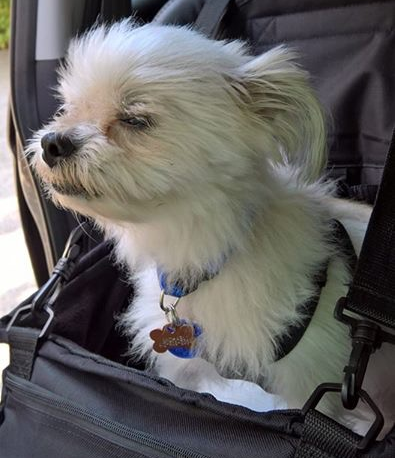 I remembered that one of our Facebook friends had recently gotten a new puppy. He had even posted a picture of the puppy (whose name is Michael) sitting on the front seat of the car with the air conditioner blowing in his face. When I saw my friend at a conference the next week, I told him I wanted to "steal" his puppy. He looked at me strangely and said, "No, you can't!" When I explained what I needed him for, he loved the idea, and we had a good laugh!
For the last element of the painting – the background – I wanted to show the magic and movement of Santa's ride. I chose a simple blue background with swirling snow and stars. Even the little airplane has caught a snow swirl as if it were starting to fly.

"Santa's Joyride" is available as a 9 x 12" archival giclee print (of course, without the watermark in the corner). I can't think of a more perfect gift for the motorcycle enthusiast in your life! CLICK HERE to begin your online shopping.
I hope you enjoy my newest painting and the story of how it was created!
P.S. – My Busy Season starts now – come out and see me! Next week I will be at three public art shows and one private show next Thursday evening. CLICK HERE to view my Calendar of Events and find out more about these and other upcoming events.
Hope to see you at one of my upcoming shows!
Make sure you are the first to know about all of my news, appearances and any "special deals" I am offering to my subscribers, by taking the time to sign up for my weekly newsletters now. CLICK HERE to sign up. You will also receive a FREE slideshow showing the step-by-step development of my painting, "Celebrating Time and Tradition at Macy's".