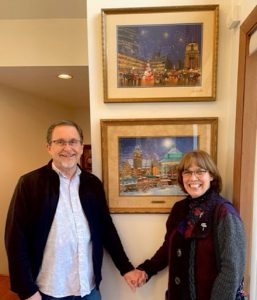 It's full-on Home and Garden Show preparation time, and my living room and dining room are starting to look like a warehouse! We're as busy as Santa's elves in December, getting prints and giftware ready for the show. And like Santa himself, I'm making a list and checking it twice to make sure this show is epic!
Last week I asked if you had any guesses about what kind of new art gift I was creating for the show. I'll have nearly 150 of them at the show for purchase. I hinted that it will show three classic pieces of mine, and you can hold it in your hand.
Well, here's a sneak peek. It's been a very long time since I've carried mugs. I decided to bring them back because I really fell in love with this design. Each mug holds a whopping 15 ounces! (More coffee? Yes, please!) They will be fully stocked in time for the show!

I'm also picking up another new line of art gifts tomorrow that I'm very excited about, but you'll have to wait a little bit longer for that one. What I can tell you now is that you'll love the color!
Because of the state of my house these days, it's definitely not a good time to have company over for dinner. So instead we reached out to friends we met back in 1996 at the Home and Garden Show in the old Convention Center… you know, back when I was the only artist on the second floor, and my booth was inbetween the bathtubs and windows?
My friend and helper Sondra and I had stayed at the booth a little past closing time, and as we were wrapping up, a couple walking down our aisle stopped to talk to us. That was the day they acquired their first Barnicott painting, and since then, they've put together quite an impressive collection of my art.
Today Tom and I had the opportunity to visit their beautiful home. They've often mentioned how big their collection was getting; sure enough, it seemed like my art was just about everywhere but the furnace room! Their wonderful home is truly a reflection of their passion for life. I feel so honored and blessed to have known them all these years. They're definitely the reason why I never leave a minute early from the Home and Garden Show, or any of my shows… because if I do, I might miss a dear friend whom I have yet to meet!
The Pittsburgh Home and Garden Show runs from March 3rd through March 12th down at the David L Lawrence Convention Center. Hope to see you there!