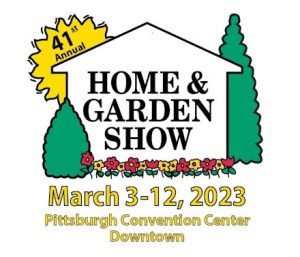 In less than one week I will be loading up my U-Haul truck for the Pittsburgh Home and Garden Show at the David L Lawrence Convention Center. I still can't believe this will be my 27th year at the show. And you would think after 27 years that I wouldn't forget how long it actually takes me to prepare for it. If you were a butterfly on my wall, you would see a flurry of activity all day and all night!
I'll also have some of my original pastel paintings for sale at my booth this time around. I always feel a bit uncomfortable taking my precious originals out of my home studio, but I want you to see the real deal this year! Soft pastels are such a beautiful medium and must be seen to appreciate their depth and vibrancy, not to mention the exquisite museum framing surrounding them.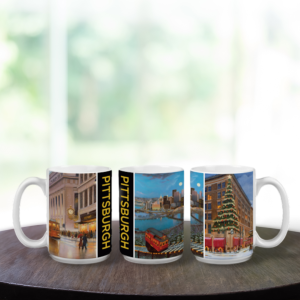 Right now, I have in hand and will be bringing to the show my new 15-ounce mugs featuring three of my most popular classic paintings: "My Hometown," "Wishing under the Horne's Tree," and "Meet Me under Kaufmann's Clock, Too!" They are very sturdy with bold, rich colors, and you can reminisce over  that perfect morning cup of coffee (make mine tea!).
Also making their debut at the show are my new hardboard coasters in six designs. So you may be wondering "Why did Linda choose to add them to her collectibles?" or "What's hardboard, anyway?"  Well, when I saw the samples, I couldn't help myself – the colors were so radiant and the images were so crisp. Hardboard is a really strong yet lightweight material, and the coasters have a cork backing so they won't slip or damage your table. They're not on my website yet, and I have only a limited supply for the Home and Garden Show.  They'll be available later, but if you'd like a set (or just one, if you prefer), be sure to stop by earlier in the show so you don't miss out!
…Which reminds me to mention once again: Everything I have at the show will be in limited supply. My best advice is to shop early.
March 3rd through March 12th, you can take 25% off selected lithographs. That includes paintings like "Let's Go Bucs at PNC Park," "Remembering Roberto Clemente," my Kennywood series, and many of my paintings of our city. (Does not include giclee prints.) Look for the dots that say 25% off!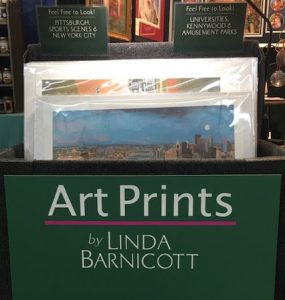 Springtime is the perfect time to decorate with the Linda Barnicott Collection! I hope to see you at the show. Wish me luck with set-up!