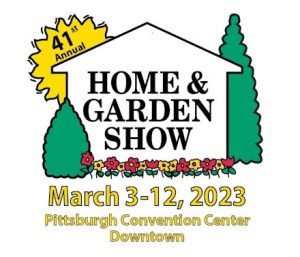 The Pittsburgh Home and Garden Show is just over three weeks away, and things are already getting intense! I'm super excited that I've been invited to do an interview with KDKA's Pittsburgh Today Live that will air on the first day of the show, March 3rd!
At this point, I'm one of the longest running exhibitors at the show as I celebrate my 27th year as an exhibitor. Just like last year, I'll be in the same spot (Booth 3146/8) at the beginning of Artists' Row. I'll even be displaying some of my original paintings this year for the first time in over a decade. If you are a collector of original art, this is a great time to see the real deal!
The Pittsburgh Home and Garden Show at the David L Lawrence Convention Center runs from Friday, March 3rd through Sunday, March 12th. I promise you the joint will be hopping, and I'm not just talking about the Easter Bunny! I can't wait to see you there!
Also, something new will be making its debut at my booth this year. I've been working on a special new art gift item that includes three classic pieces of mine that you can hold in your hand. Any guesses? Quantities are limited for now, but I'll have over 100 of them at my booth available for purchase at the show.
Meanwhile, show preparations continue while I'm currently working on two painting commissions. I'm also sorting through ideas for my next Pittsburgh painting in 2023… but more on that later!
P.S. – Thank you for all the wonderful comments about our trip. It's so tempting to jump on a plane and go back! Maybe I could be a street artist on the banks of the Seine? I know, I know, duty calls, and patience is a virtue. But I can dream, right?