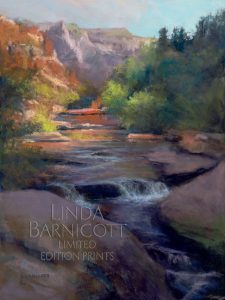 The American West is a place of incredible beauty and mystique. Western landscapes are uniquely stunning, with mountain vistas, multicolored canyons, wide open spaces, and a color palette all their own. This week I'm introducing three new paintings based on my travels out west, so if you're a fan of western art, this may be your week!
From our first vacation after our honeymoon in 1980, all the way up to 2001, our family car only knew one path to vacation time… due south to Florida! Eventually, we realized that our little family had just a few more years before college and careers would take our girls in different directions. So in 2002, we decided to take the car in a different direction as well – and go west instead.
We consulted with close friends who had recently traveled cross-country and raved about their adventures. One set of friends carefully scheduled each stop along the way, while the other couple threw caution to the wind and set out with just a map and a general idea of where they were going to stay each night.
We decided that this was the way for us.  So we rented a big Grand Caravan and threw some bags in the back along with AAA maps and guidebooks from each state – and the Barnicotts went west!
My first thought as we were driving through Ohio was, "Will this feel like a vacation without palm trees and sand?"
After driving for hours and hours through flat cornfields, night fell at last, and we found a place to stay; it was called the Lakeside Motel. It was dark and we couldn't see any water, but with that name, there must be water nearby someplace, right? I was really missing the ocean, and I thought it sounded like a reasonable substitute.
When I woke up the next morning, I went outside to see the most amazing sight… big brown hills dotted with dark green pines, not to mention the biggest, fastest-running river I had ever seen (it was the Missouri). Remember how Dorothy in The Wizard of Oz said, "Toto, I don't think we're in Kansas anymore?" Well, we were definitely not in Pittsburgh anymore. This was when everything changed – and the Barnicotts got a new perspective on vacation destinations.
My three new pastel paintings aren't based on that very first trip out west with our girls, but they do show some of our favorite places that Tom and I visited on our more recent solo trips.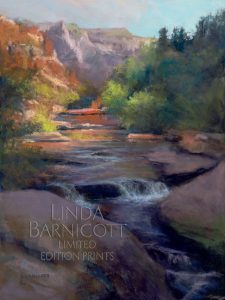 "A Peaceful Moment at Slide Rock" was based on a place in Arizona that Tom and I returned to a few years ago.  We had been there with the girls in 2002… but at that time, it was anything but peaceful. Our younger daughter decided to slide down the rocks fully clothed – immediately, of course, after she was told not to get wet. But on this particular day many years later, it was just the two of us, and I felt as if we had the whole place to ourselves.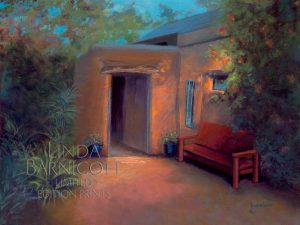 "Night Beauty in Albuquerque" is another place that we revisited in 2017 after attending a conference for pastelists.  Tom and I strolled through the old town together, and I was fascinated by the intense, rich colors of the adobe, teal blue accents, and the red bench in this composition. I think they must know that artists are highly affected by those colors and will be obsessed with painting them!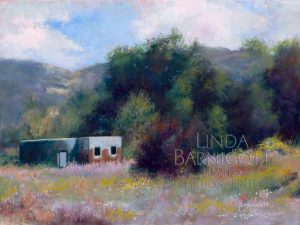 Finally, "Adobe Home Amongst the Hills" represents scenes we saw driving up to Taos after leaving Albuquerque. An artist friend shared a story of how a proud father gathered his family to watch our friend paint their "humble" home, which was really quite beautiful.
Have you ever traveled out West (or maybe even lived there)? What was most memorable for you? If these paintings remind you of something that brings you joy, the original pastels are for sale, and you can find the prints for purchase on my site.
Each of the paintings and prints are 9" x 12" and would make great accent pieces in your home. If you're interested in one of the originals, drop me an email at info@lindabarnicott.com.
P.S. – Last week I asked if you could write a sentence or two (or more) as a Google Review for Linda Barnicott Art & Gifts. If my work has touched your heart in any way, I hope you'll consider sharing those thoughts on my Google Account.
Just follow the link below to Google Maps and scroll down to where you can write a review.  I would greatly appreciate your time and your kind words.
https://goo.gl/maps/hjnaUKyvJv6DQVtX8
Thanks in advance!