Happy Sunday, everyone! I hope you enjoyed some of the warm weather we had last week before the rain came. I am very excited because all of our hard work on our gardens has really paid off. My flowers are blooming like crazy, and every day I feel joy when I look at their brilliant colors and inhale their glorious scents.
I'm enjoying it this weekend, because I'll soon be busy with a new project. (Not ready to talk about it quite yet – but I'll tell you all about it next week!)
You may remember that since the arrival of the pandemic in the middle of the Pittsburgh Home and Garden Show last year, opportunities to get out and exhibit at festivals, shows, and fairs have been practically nonexistent. One way that I have found I can reach more people is through Google Business. I recently "claimed" my business on Google, and I'm looking for reviews that will steer people to Linda Barnicott Art and Gifts when they search for "Pittsburgh Art" or other something similar.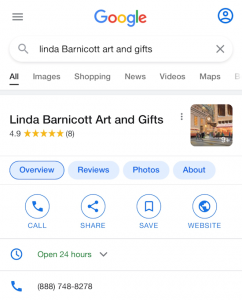 Would you be willing to help me out one more time? A review can be anything from one sentence to a paragraph or more – it's entirely up to you – and is just a testimonial about why you like my art, or maybe what it has meant to you or to special people in your life that you have gifted it to or what they thought about it when they received it. Again, it can be anything from one sentence to a paragraph, and the better the review and score, the higher my business will trend on Google.
Thank you all for helping me through the years (especially the last year!) through all these transitions. As I celebrate 32 years of painting Pittsburgh, I've been wondering what my life and art will become in the future. Now that Tom is retired, of course I'll be spending more time with him. But does an artist ever retire? I can't imagine a life for myself where I'm not painting!  So it Iooks like I'll keep on painting and learning and creating art for the foreseeable future!
As always, your support means the world to me.