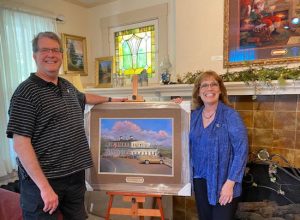 The big day finally arrived – the official "launch" of my nostalgic tribute to the Ship Hotel!
I was so excited when my framer delivered the prints of "Lincoln Highway's Historic Ship Hotel" for my customers.  The framed original was also ready for its new home, and we were able to set up a time to unveil it.  Bill, the client who commissioned the painting, had a fantastic idea – why not donate a framed print to the Lincoln Highway Experience – Lincoln Highway Heritage Corridor Museum in Latrobe? You may remember that the Executive Director of the Museum, Lauren Koker, was a huge help in figuring out the words on the building's red sign from old photos.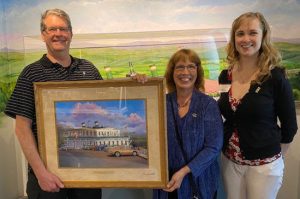 As soon as we arrived at the museum, we were already impressed. The main building on this beautiful property dates back to the early 1800s and is filled with tons of Lincoln Highway memorabilia. We learned that of all the Route 30 attractions, the Ship Hotel is a visitor favorite.  Lauren has actually dedicated an entire room to the Ship Hotel, and that is where the painting will hang.  I'll also be sending her the link to the video I made so that visitors can see how the painting was created from start to finish.  (Click here to watch the video!)
After a great lunch, we headed back to my studio/home to see the original in its new frame and to finally send it home with its owner. Of course, the visit wouldn't be complete without a personal tour of my garden!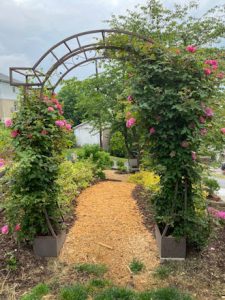 My art business is really picking up these days, and it's getting to be a busy time with new commissions and new paintings planned in and around Pittsburgh. Better yet… the Fall shows are coming back!  So stay tuned for more news.
As always, if you're looking for a unique gift of art or maybe an update to your home décor, check out the rest of my website.