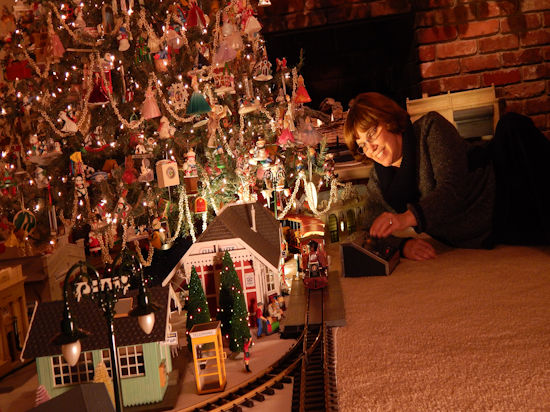 One of the perks of my business is that I get to have a little bit of holiday joy in my life all year round. Here I am in mid January, under a Christmas tree, playing with miniature trains. I get to play and call it "research!" Actually, it really does help get me into the right mindset to work on my next painting in the "Jolly Old Elf" Santa series.
In fact, I've spent so much time with Santa lately, it seems more like November than January. Though Santa has earned the right to be lying on a beach somewhere this month, we did have a lot of fun together this week setting up and creating this year's new holiday paintings.
I have a feeling this one is going to be the best yet! As you can see in the picture above, I was playing with the miniature trains to get in the proper mood and to visualize how Santa would look as the engineer. Of course, Santa had to play with the trains as well so I could capture his excitement and that sparkle in his eye when he got to be the engineer!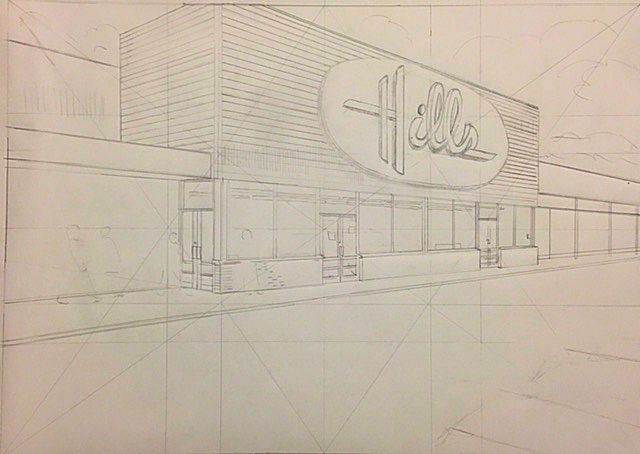 Another new painting got its start this week as I completed the rough first sketch of my painting of Hills Department Store planned for this spring. I will be unveiling it at the Home and Garden Show in March.
I received a lot of wonderful stories from my readers this week about their memories of Hills. Many described Hills memories that we all share… especially sensory memories of the snack bar, the hot dogs grilling on their rollers, the warmth and comforting smells of popcorn and soft pretzels, and so on. But one of the stories, Caitlin's, told of a little girl who saved her pennies to buy her parents a special Christmas gift at Hills one year.
She begged her parents not to stand near the registers and to wait for her at the front of the store so it would be a surprise. She chose two perfect Christmas stockings for them, and she had exactly enough money to pay for them. But as she was checking out, she realized that she had forgotten about tax and didn't have enough money. Just when she was about to panic, a young woman in line behind her saw her plight and handed the cashier one more dollar.
And to this day, Caitlin continues to fill those stockings for her parents year after year. I was deeply moved by the message of her story – how a small kindness from a stranger can make a real difference in someone's life. Caitlin told her story so eloquently, I wish I could reprint it here in its entirety – in a way, she created a painting with her words.
P.S. – Looking for a way to escape the post-holiday winter blahs? I'll be appearing in my first show of the new year next week. This brand new annual event, Pittsburgh Travel Showcase, takes place from Friday, January 27th to Sunday, January 29th at the David L. Lawrence Convention Center. If you missed me during the holidays or you need a gift or just an "art fix," stop by and see me! CLICK HERE to view my Calendar of Events and find out more about this and other upcoming events.
Make sure you are the first to know about all of my news, appearances and any "special deals" I am offering to my subscribers, by taking the time to sign up for my weekly newsletters now. CLICK HERE to sign up. You will also receive a FREE slideshow showing the step-by-step development of my painting, "Celebrating Time and Tradition at Macy's".