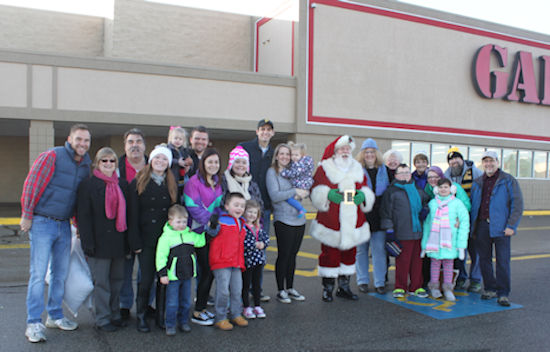 The sun was just peeking over the horizon on Saturday morning when Tom and I arrived at our location for the big Hills Department Store photo shoot. We chose this store for our photo shoot because it was very similar in appearance to the former Hills store I'll be painting; it even had a red neon sign that reminded us of that familiar Hills sign from back in the day. If only we had a time machine!
The warm glow of the rising sun was reflected in the store's windows and onto the ground in the parking lot, inspiring me to visualize my painting. While I was lost in thought, suddenly the peacefulness of the early morning was interrupted by the sound of cars pulling into the parking lot. At first I was afraid they were early-bird shoppers. But then as one car after another approached us, I realized they weren't shoppers – they were friends, both old and new, arriving to take part in my new painting.
Then Santa arrived to pose for me, playing the part of a Salvation Army Santa complete with kettle. And Santa wasn't the only celebrity on board… Pittsburgh Dad himself showed up to lend a touch of Pittsburgh Panache to my painting. Because everyone knows Hills is Pittsburgh Dad's favorite store of all time!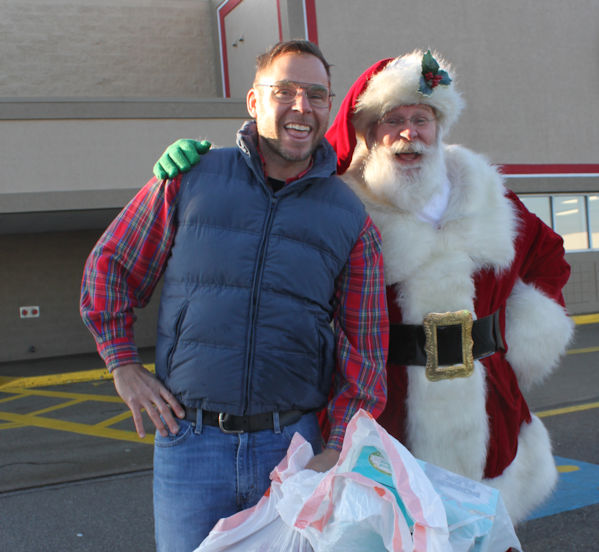 I took over 300 photos to make sure I had plenty of options to compose my painting and place my models. Everyone had a blast! Then last night I roughed the people into the sketch. It was so exciting to bring it to life! If all goes well, I will be unveiling the completed painting at the Home and Garden Show in March – which, believe it or not, is just around the corner!
And speaking of shows… I'll be super busy today setting up for a brand new big show this weekend at the David L. Lawrence Convention Center…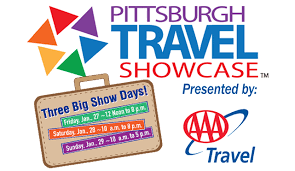 The Pittsburgh Travel Showcase, opening this weekend at the Convention Center, is a fantastic way to check out vacation destinations far and near, all in one location. Exhibitors will be there representing local, national, and international travel companies, including major cruise lines, railway and tour companies, theme parks, destinations, attractions, and more.
But this isn't just your average travel show – there will also be great entertainment, food, and even an artist (me!). The Cultural Stage will feature music traditions from around the globe, and delectable international food, beer, and wine will be available at Taste of the World.
The show runs from Friday, January 27th through Sunday the 29th. Hours are Friday noon to 8 p.m., Saturday 10 a.m. to 8 p.m., and Sunday from 10 a.m. to 5 p.m. CLICK HERE to view my Calendar of Events and find out more about this and other upcoming events.
I'm honored to be invited to participate in this exciting new event, and I hope you'll come down this weekend and check it out. And don't forget, if you missed me during the holidays, if you need a gift for someone special, or if you're just looking for a fun way to escape the midwinter blahs, I'll be waiting for you at Booth #504, right near the entrance!
Make sure you are the first to know about all of my news, appearances and any "special deals" I am offering to my subscribers, by taking the time to sign up for my weekly newsletters now. CLICK HERE to sign up. You will also receive a FREE slideshow showing the step-by-step development of my painting, "Celebrating Time and Tradition at Macy's".