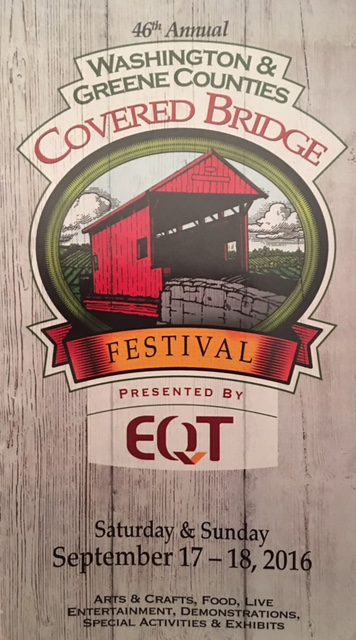 I love multitasking, though it's not always easy. I like that sense of accomplishment from getting two things done at the same time.
Which is why it makes perfect sense for you to come visit me this weekend at one of my favorite shows of the season! I can't think of a better way to reap the benefits of multitasking than by enjoying a fun country outing on a beautiful fall day – while at the same time wisely snapping up some great holiday gifts.
I'll be exhibiting this weekend with a full selection of my prints and giftware at the Covered Bridge Festival at Mingo Creek County Park in Washington County on Saturday, September 17th through Sunday, September 18th from 10 a.m. to 5 p.m.
So what is it that makes this festival one of my favorites?
~ There are so many fun things to do – lots of interesting vendors and excellent live entertainment. I love just people-watching from my booth down by the creek, especially the happy families playing among the rocks. Everyone is friendly and having a good time.
~ They have some of the best festival food around – especially the ice cream!
~ The surrounding Washington County countryside is among Pennsylvania's most beautiful.
Of course, to assist you with your multitasking, my booth will be fully stocked with art and giftware to give you a jump on your holiday shopping. Premiering this weekend are my new ornaments for 2016 from Wendell August Forge – "Shhhh!" and "Santa's Newest Reindeer." These two ornaments are the first in a 5-year series with 2 new ornaments per year (10 in all). So this is the perfect time to start your own collection!

I'm also bringing a few surprises, including never-seen-before smaller-sized prints of some of my favorite paintings.
Because I'd really love to see my loyal readers and favorite customers at the festival this weekend, I have a little gift for you! Just print out this blog and present it at my booth, and you'll receive a free note card (artist's choice) just for stopping by..
I know it's only September, but why not save yourself valuable time closer to the holidays by checking a few items off your 2016 gift list? And wouldn't you rather be shopping outdoors in the fine fall weather instead of in December's cold, snow, and ice?
So instead of waiting until the last minute (and shopping in the winter weather that we all know is coming soon!), why not kill two birds with one stone? You too can be a multitasker this weekend and enjoy an outing in the country while also getting a head start on that gift list for your favorite friends and family members. Come see me down by the creekside at Ebenezer Bridge – I'll be in Booth #54! CLICK HERE to view my Calendar of Events and find out more about this and other upcoming events.
P.S. – Remember to print out this blog and present it at my booth to receive your free note card!.
P.P.S. – If you ask me to see photos of my new granddaughter, Aria, I just might happen to have a few with me….
Make sure you are the first to know about all of my news, appearances and any "special deals" I am offering to my subscribers, by taking the time to sign up for my weekly newsletters now. CLICK HERE to sign up. You will also receive a FREE slideshow showing the step-by-step development of my painting, "Celebrating Time and Tradition at Macy's".