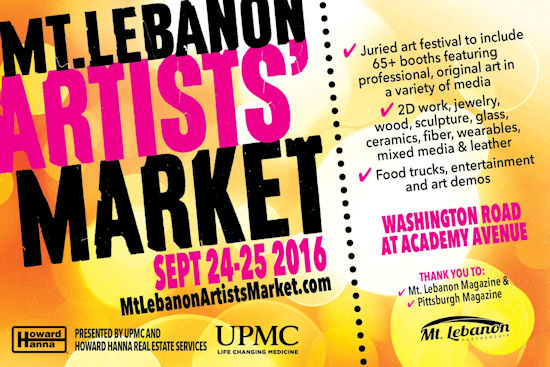 Another week has flown by, and the weekend has come again. And because it's Fall festival season, that means it's time for another show.
Whenever I have an event, I'm generally up and raring to go, but this week I may have a little less enthusiasm than usual. My husband Tom has been feeling pretty ill lately, and it looks like he may have pneumonia. He is getting a chest x-ray today, so we'll know more soon. Obviously, my mind and my heart aren't fully focused on my work right now, but as always, "the show must go on," and I'll give this weekend my best shot.
I have been blessed to be accepted into the Third Annual Mt. Lebanon Artists' Market, which takes place on Saturday and Sunday, September 24th and 25th from 10 a.m. to 5 p.m. both days. My Booth (#505) will be stocked with a big selection of my prints and gifts for you and/or your loved ones. CLICK HERE to view my Calendar of Events and find out more about this and other upcoming events.
The show is located at Washington Road and Academy Avenue in the Mt. Lebanon business district. Booths will be set up in the PNC Bank parking lot and the Academy Avenue parking lot. Thank heavens we had put the heavy items in the van earlier this week for set-up, so less lifting and carrying will be needed. I'll just have to load up the paintings and art gifts into the van, which my helpers and I can do first thing in the morning.
Though he is always my #1 Assistant, Tom is officially excused from helping me this weekend, and he may even get to take the day off on Monday when I unpack after the show. Please send a prayer up for him – I worry so much about him.
In the meantime, in fulfillment of my grandmotherly duties, here's a photo of our beautiful granddaughter with her Pappy.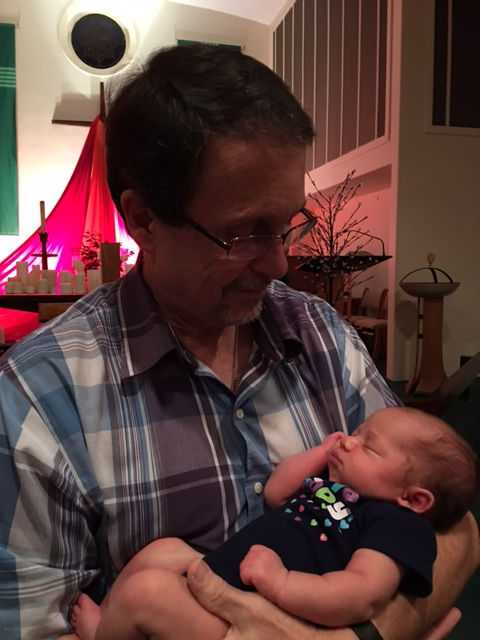 By the way, if you're looking for office gifts for your colleagues this holiday season, why not give a gift of art? Last year at the Holiday Market in Market Square, an office manager brought her entire office staff to my booth, where she allowed each one of them to pick out the ornament of their choice as her gift. So everyone was able to select their favorite ornament – it was fun to see how excited they were! I also was able to personalize and sign each ornament for the recipient to make the gift extra special.
If you're in town this weekend, I hope you'll come see me at the Mt. Lebanon Artists' Market!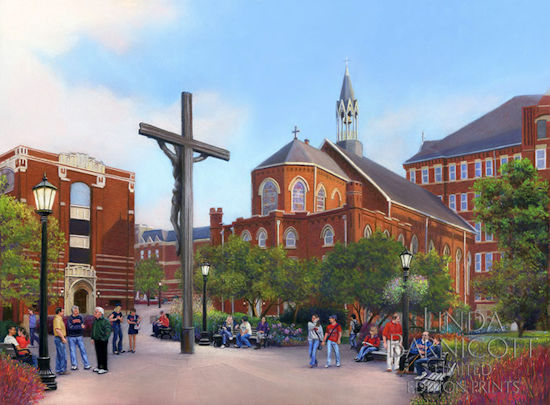 P.S. – My paintings also make wonderful wedding gifts! I just sold a painting of Duquesne University, "Chapel on the Bluff," to a mother-of-the-groom. She's giving it as a wedding gift to her son who is getting married there tomorrow. I even wrote a special letter from his parents on the back of the frame.
P.P.S. – I just finished the sketch of "Santa's Joyride"… more details next week!
Make sure you are the first to know about all of my news, appearances and any "special deals" I am offering to my subscribers, by taking the time to sign up for my weekly newsletters now. CLICK HERE to sign up. You will also receive a FREE slideshow showing the step-by-step development of my painting, "Celebrating Time and Tradition at Macy's".