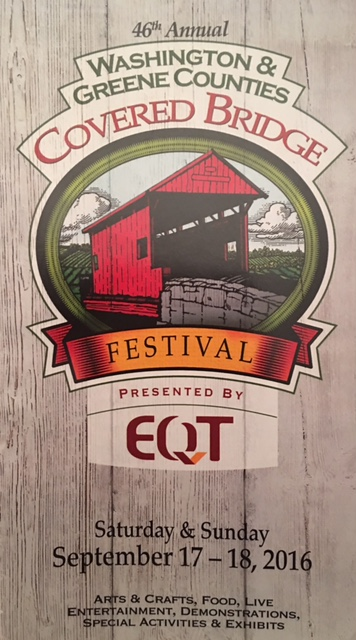 I have been on Cloud Nine all this week, getting to know our little Aria Grace and mastering this grandma thing. I want to thank you all for the multitude of replies I received from so many of you after last week's newsletter. They truly touched my heart! All of your good wishes were deeply appreciated.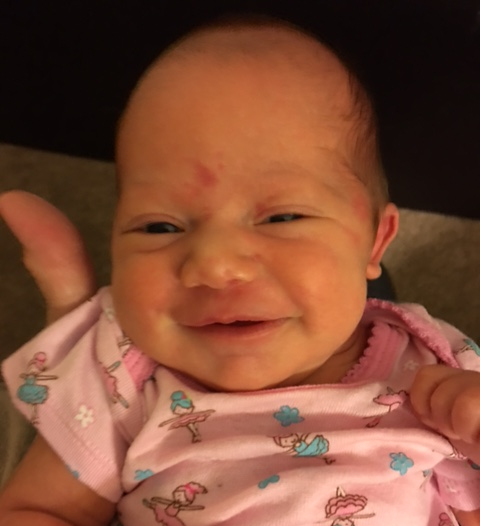 But as nice as it is to stay in our little family bubble, life goes on.
As we look ahead to next weekend, I wanted to let you know I'll be exhibiting at the Washington County Covered Bridge Festival in Mingo Creek County Park. The show takes place on Saturday, September 17th and Sunday the 18th from 10 a.m. to 5 p.m. You can find me in Space #54 down by the creek at the Ebenezer Bridge. CLICK HERE to view my Calendar of Events and find out more about this and other upcoming events.
Of course, I'll have all my new paintings, gallery wraps, candles, magnets and the new Jolly Old Elf series ornaments from Wendell August Forge! Now that summer is gone, it's a perfect time to start purchasing gifts for the holidays.
Yes – the Holidays! Can you believe it? Maybe I just have a bad case of "Baby Brain," but I for one can't figure out how it got to be September already! And I still have to finish two more paintings for the holiday season. One of them is my newest Jolly Old Elf companion print featuring Santa riding on a vintage Harley. It should be ready very soon, so keep an eye out for that one!
And if you come visit me at the Covered Bridge Festival next weekend you can be among the first to see my new Mother Teresa candles from Sugar Creek Candle Company. Created from my newest painting, "The Heart of a Saint," the candle commemorates the compassion and work of St. Teresa of Calcutta, newly canonized on September 4th.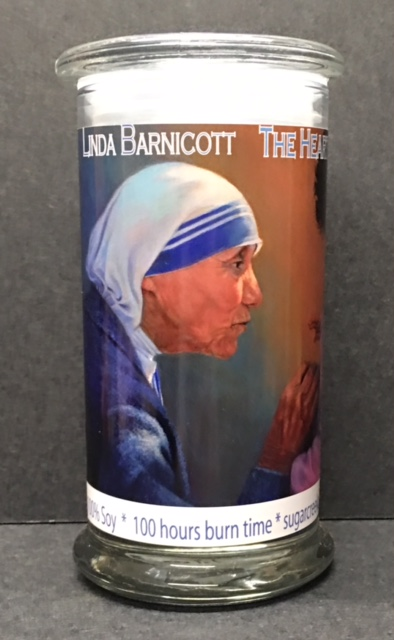 These slow-burning, scented soy candles are a lovely addition to any home. When the candle is burned to completion, the glass vessel and printed image are dishwasher safe and can easily be repurposed. For example, I bought some battery-operated fairy lights and placed them inside one of the jars, and they illuminated the image beautifully.
I hope you can come see me at the Covered Bridge Festival; if you can't, don't worry – the new candle is available on my website.
P.S. – If you visit my booth next weekend, just print out this blog and receive a FREE note card (artist's choice)!
P.P.S. – As always, I will happy to personalize and sign all the gifts of art that you purchase to make them extra special!
Make sure you are the first to know about all of my news, appearances and any "special deals" I am offering to my subscribers, by taking the time to sign up for my weekly newsletters now. CLICK HERE to sign up. You will also receive a FREE slideshow showing the step-by-step development of my painting, "Celebrating Time and Tradition at Macy's".