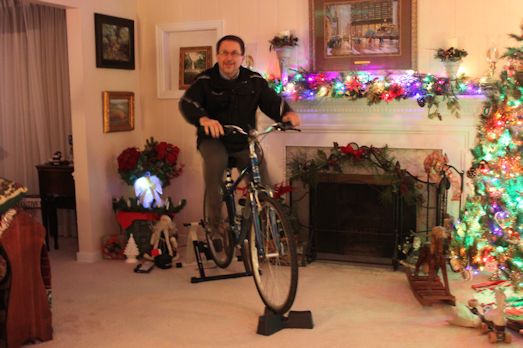 Happy mid-winter!
Though the skies are gray and snow is on the ground, it's still bright and cheery at the Barnicott household!
As you can see, it's still Christmas at our place. We kept it that way because, as my husband Tom explained, "It's so dark in January, and it brightens up these cold winter days." Not to mention the fact that thanks to my hectic holiday season schedule, we barely get a chance as a family to enjoy our decorations before the holidays are over.
Last night, we also celebrated Tom's 59th birthday. Though it looks like Tom's dressed for cold weather in the photo above, our living room is actually pretty cozy. We were just on our way out for his birthday dinner, and he was modeling his favorite gift – equipment that will let him indulge in his favorite activity (biking) – in the comfort of our home this winter instead of freezing outside.
So I think we're up to about the 36th day of Christmas so far! In fact, we just placed toys under the tree after they were used as props in our photo shoot with Santa last weekend.
And speaking of Santa, check out this fabulous banner that was part of a national promotion for Rite-Aid stores this holiday season. That's our Santa John, front and center! He is the perfect Santa because he truly embodies the spirit of Christmas and lives it all year round. For that reason, he's very much in demand these days. I feel very blessed to know him.
Though it's still Christmas at the Barnicott house, spring must be just around the corner… because next Wednesday, I'll be attending training for this year's Home and Garden Show exhibitors. The show runs from Friday, March 4th until Sunday, March 13th.
This is my 21st year as an exhibitor, so I could probably could give the training myself! But I attend every year because it helps me focus on the multitude of things I need to do to prepare for my 10-day "marathon," one of my biggest events of the year. Visit my website's "Calender of Events" to find out more about the show.
I'm already gathering my team to help me help you at the Home and Garden Show. I'll be stocking up, and many decisions will be made in the next few weeks… which of my paintings, cards, and giftware to bring, how many, and so on.
Have a great week! If you love the winter, enjoy! If you don't… just be patient.
Make sure you are the first to know about all of my news, appearances and any "special deals" I am offering to my subscribers, by taking the time to sign up for my weekly newsletters now. CLICK HERE to sign up. You will also receive a FREE slideshow showing the step-by-step development of my painting, "Celebrating Time and Tradition at Macy's".