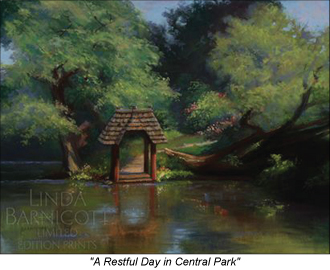 Hi, It's Linda!
So much has been happening in the last several weeks! Planning a move on short notice is keeping me very busy, but lately with so many new opportunities around every corner, it's been a pretty wild ride!
First and foremost, I want to thank everyone who responded to my last email concerning our move to Bethel Park. What a blessing all of you are! Your kind wishes mean so much to Tom and me.
You might be surprised at what my biggest seller has been in this newly emerging spring season – original pastel paintings! Perhaps it's a longing for soft colors and warmth after the long, cold winter we just survived? After selling "A Snowy Evening at the Benedum" a few months ago, I've recently sold three more originals: "Oasis of Beauty at Phipps," "Water Lilies Swim, Light Streams," and two weeks ago, "Ocean Breeze."
Original paintings are true works of art. Even though there are beautiful prints of many of these paintings, there still is only ONE original. Pastel paintings become heirlooms – they have been around for centuries, and they don't yellow or crack the way oils can. They keep their fresh look and show a multitude of colors as the pastels mix on the surface of the painting. Just put a picture light on them and watch them glow and shimmer!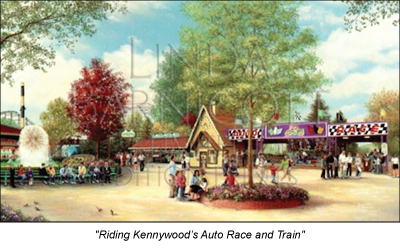 I do have quite a few original pastels available in my studio… some old favorites like "Game Day at Pitt Stadium" and "A Grandview of Pittsburgh" – some adventuresome Kennywood pastels like "The Phantom of Lost Kennywood" and "Riding Kennywood's Auto Race and Train" – some peaceful "take me away" landscapes of water, fields and flowers – and so many more.
If you've ever had a yearning to own an authentic original pastel, please take the opportunity to stop by my studio before mid-June. Just call my office to make an appointment, (412) 372-3200. Or email me at info@lindabarnicott.com.