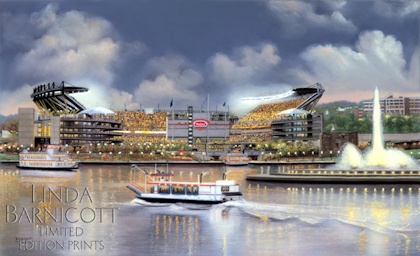 I have some great news to share with you! I have had several calls about my originals in the past week, and one of my favorites is headed for its permanent home. "Game Day at Heinz Field" has found a happy home in the South Hills! It's one of my favorite pieces – against a classic Pittsburgh winter sky, this original just glows with reflections on the water and the colors of the fans in the seats. The frame is black and gold with a brass title plate shadow-boxed in the mattes.
"Game Day at Heinz Field" was so much fun to create. My favorite memory of that creative process is the night I went down to Station Square to see the stadium after dark. It was a perfect night… as the fans gathered for the game, the beauty of the reflected light on the water made my heart sing. Then, as luck would have it, the water shuttle carrying fans to the stadium passed by, creating a brilliant twinkling in the water from its wake. I like to think that you can feel what I felt when you look upon this painting.
If you know me (and most of you do!), you know how important it is for me to find a good home for my originals. The process of creating an original painting is like raising children in a way. I develop them from just a thought and help them grow into a finished work of art. Each new stage builds upon the last. Along the way, there are challenges and victories, and the end result is worth all the hard work. I can't speak for other artists, but as each day passes, when I look into my studio for the first time each morning, I smile because I can see that beautiful work of art emerge, becoming the best I can make it.
Because I'll be moving soon, I'm hoping to find homes for as many of my originals as possible. If you've ever thought of owning an original piece of artwork, why not invest in one of my paintings of something you love? Pastel paintings will last for centuries and will be a family heirloom to be passed down from generation to generation… a gift that keeps on giving that you can enjoy right now!
Drop me an email at info@lindabarnicott.com, or give me a call at my studio, (412) 372-3200. Or have a look at my available originals on my website at www.lindabarnicott.com and see if something catches your eye!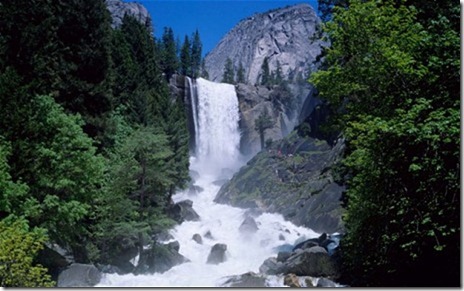 I'll be in California painting amazing natural scenes around Yosemite National Park until May 17th. I'll have more to tell about my trip next week!