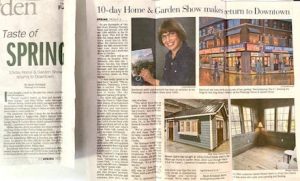 Here I am, back at the Pittsburgh Home and Garden Show at the David L Lawrence Convention Center in Downtown Pittsburgh and loving it! I didn't realize just how much I've missed this show. All day long, I'm visiting with customers I haven't seen in two years, and it's been so much fun!
Did you catch the terrific article about the show that appeared in Sunday's Pittsburgh Post-Gazette? Of course, I wasn't the only one interviewed for the article, but I was thrilled that they chose my photos to illustrate the article in color. Sincere thanks to writer Kevin Kirkland and the editors for making me look so good!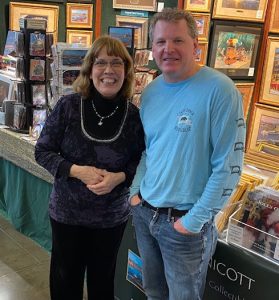 Speaking of Kevin, he visited my booth Monday before I saw the article. I had told him I had had a huge number of requests for my painting, "Remembering the O." Now that I've seen the article, I think I know why!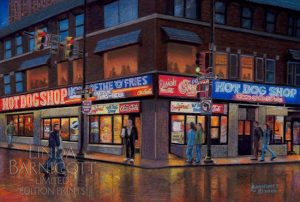 When I appeared on stage last week, I met for the first time Mark Frazer from I Heart Radio (94.5 3WS) and his beautiful and talented wife, Elise. He also interviewed me on stage after the event. He has such a fun personality!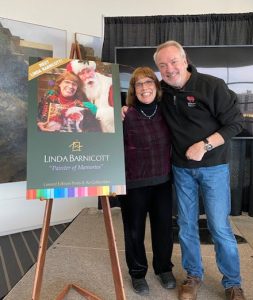 If you missed it, don't worry – I'll be Live on Stage again tomorrow (Friday, March 11th) with a slightly different program from last week. This time, I'll appear on the main Home and Garden Show stage out in the lobby at 3 p.m. I'll be sharing stories about my paintings, answering questions, and even some little-known back stories. I would love to have some friendly faces in the audience, so please come and join me!
There's so much to see at the Home and Garden Show! Remember, everyone who purchases anything at my booth (#3146-8) – from a magnet to a framed print – will receive a free postcard while supplies last, so it's smart to shop early!  (This applies to online purchases as well.)
Can't make it to the show this year? Or you've already been to the show and can't make it back? No problem! With my Big Online Special, you can get (almost) anything you want without getting out of your recliner.
If you place an order through my website, www.lindabarnicott.com, you'll receive 10% off plus FREE SHIPPING. Just enter the code 'spring' at checkout. (This offer is good from Friday March 11th through Sunday night, March 13th, 2022. Again, it does exclude those pesky, heavy, almost-sold-out candles.)