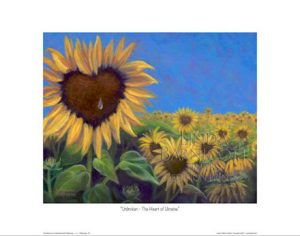 This is my new painting, "Unbroken – The Heart of Ukraine." The symbolism in the painting represents the steadfastness and resilience of the Ukrainian people in the face of this brutal war. I was inspired to create it because I wanted to make a difference and do whatever I could to help support the Ukrainian people.
Finally, all the details are in place! Now you can donate to humanitarian organizations in Ukraine by purchasing your own print of "Unbroken."
Each colorful print is 11 x 14 inches with an image area of 8 x 10 inches on archival paper. You can actually frame the piece without the need for matting if you wish. A definite plus!
I am happy to announce that sales of the prints will be handled through a collaboration with the Unitarian-Universalist Church of the South Hills (Sunnyhill). (For tax purposes, I need to work through a charitable entity to receive and distribute the funds directly to the humanitarian relief organizations.)  All profits – minus the cost of printing and postage – will be donated directly to these two fine organizations:
The Ukrainian Red Cross
The Red Cross is often on the frontlines of war serving to help those affected by armed conflict. The Ukrainian Red Cross is currently assisting people inside the country by aiding evacuations and providing shelter, food, and basic necessities.
The Voices of Children Foundation
Created in 2015, the Voices of Children Foundation has been providing psychological support to children affected by war in the Donetsk and Luhansk regions of Ukraine through art therapy, video storytelling, mobile psychologists, and more. Now the organization is working to support children across Ukraine with emergency psychological assistance and assisting in the evacuation process.
Now let's all pull together and see how quickly we can generate donations to help the Ukrainian people and their war-torn land!
Visit my website through this link to donate directly to the church… and, simply for entertainment purposes while you're there, check out the video I made right after I finished the painting!
https://lindabarnicott.com/product/unbroken-the-heart-of-the-ukraine/
Next up, the original painting will be auctioned to raise funds, and I'll have more on that very soon.
Your support and encouragement are always so important to me!
Thank you so much! Slava Ukraina!
P.S. – A Big Thank You to Behar/Fingal Advertising and the group at the Unitarian-Universalist Church of the South Hills for going above and beyond with the creativity and hard work they put into this project! They made it look simple, but it was actually very involved. I appreciate all of them for their time and effort.