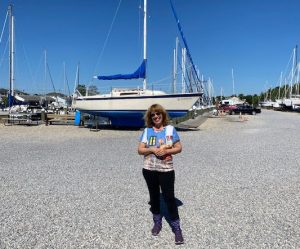 We've been getting out and about quite a bit lately, making up for lost time. Last week, Tom and I decided it was a good opportunity to revisit my hometown roots, and we made an impromptu trip to New Jersey. Back in the day, from the time I was 9 until I got married, I spent almost every weekend except for the winter months at the shore. Together with our family and friends, we stayed in boats that my dad had bought or ones he built himself.
The Tradewinds was the biggest one he built, a 38-foot cement-hulled sailboat. I was 12 when my dad finished this boat and launched it. Believe it or not, a ferro-cement hull is lighter than a steel hull!  I painted this painting of it sometime in the 1990s. I'm not giving a specific date because – if you look closely – you will see that the year I signed it was… "199___." (Oops! We may never know when I actually painted it…)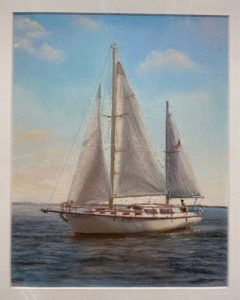 Spending time at the marina at Cedar Creek, New Jersey, such an important place in my childhood, was very good for my soul. Breathing in the sea air and hearing the sea gulls and the shrouds on the sailboats in the wind brought me peace and a yearning to stay. How lucky I was to have this special place to escape to when life got crazy growing up.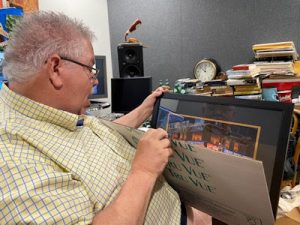 Last week, I also had the opportunity to meet up with the famous Rick Sebak of WQED! Because he's the star of my new painting, "Remembering the O," I felt it was only fair to present him with a framed print. Rick was gracious enough to model for me, and you can see him emerging from the "Dirty O" holding a bag of leftover French fries.  It was the first time he had seen the painting, and I caught his "WOW!" moment in this photo just as he was unveiling it, fresh from my framer, Lee Heckman.
I also gifted him with a copy of my first picture book, The Jolly Old Elf – Santa Claus Paintings by Linda Barnicott. I kid you not, he put it right up to his face to peek over the top, just like Santa did!  I told Rick he would make a great Santa!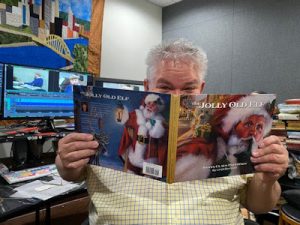 Rick and I met in his editing office at WQED, which was filled with wall-to-wall books and tapes. From the minute I walked in the door, I knew I was in the presence of greatness! At the time of my visit, he was actually working on a clip from an interview with August Wilson back in 1989. His office down the hall reminded me of a combination library and museum (or perhaps an artist's studio?), with books and resources and memorabilia from floor to ceiling.
Have I mentioned lately how much I love my job?  I truly appreciate all the wonderful experiences I've had and all the memorable people like Rick Sebak I've met along the way.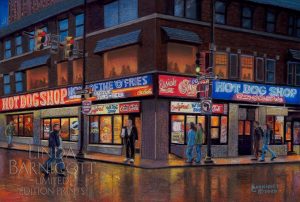 P.S. – (You can order your own print of this gone-but-not-forgotten Oakland landmark at https://lindabarnicott.com/product/remembering-the-o/
P.P.S. – In one week, we'll be Halfway to Christmas – a great time to order a copy of my first picture book, The Jolly Old Elf, for your Jolly Old Self or someone you love… https://lindabarnicott.com/product/the-jolly-old-elf-book/