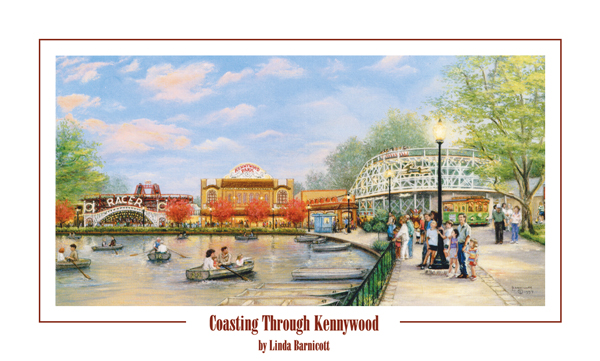 A lot of people have asked me which one of all my paintings is my favorite.
There are quite a few that I would call favorites, but Number One is definitely "Coasting Through Kennywood." The original painting is part of my private collection, and I will never part with it because it holds so many personal memories for me. I've sold many of my originals over the years, but Tom and I agreed that this one would stay with us forever.
Why is this particular painting so meaningful to me? Well, there are a number of reasons…
First of all, this spot on the bridge overlooking the lake is where Tom "almost" proposed to me on our first Pittsburgh date. We were just standing there talking, and I told him about my dreams of getting engaged and married. Tom got a funny look on his face and walked away, leaving me on the bridge. I thought for sure I had blown it! Fortunately, that was not the case – what I didn't know was that he was trying to work up the nerve to propose, and my unexpected revelations threw him for a loop. Lucky for me, he recovered and did eventually ask for my hand in marriage that weekend.
Another part of this painting that has a special meaning for me is the number "22" painted on one of the aluminum boats on the lagoon. Tom worked at Hahn's Shoe Store at South Hills Village for 7 years while he attended high school and college. He was Sales Associate #22, and he would write the number 22 on the bills he received when he made a sale.
So here's where it gets interesting… On our first New Jersey date, we were working on a college project in a little town near New Hope, PA, rehabbing a farm for an artist community. On one of our breaks, we visited a little ice cream shop in the woods. When Tom received his change – believe it or not! – one of the dollar bills had his number 22 written on it! Somehow that bill made it across the state and back into our hands.
"Coasting Through Kennywood." is also very dear to me because some of my closest friends posed for it. Of course, Tom and the girls are in it (on the left side). The people posing with them are my oldest childhood friends from New Jersey who just happened to be visiting on that day. The little girl pointing in the foreground with her family was my daughter's very best childhood friend. They actually posed for me in their backyard, sitting on a picnic bench and holding an old broom and a broken hoe for oars!
Finally, this particular painting brings me joy because it was the view from my show tent during the Fourth of July festivals at Kennywood – 18 years of wonderful memories for my family and me.
I hope you enjoyed this little window into why "Coasting Through Kennywood."" is my favorite of all my creations. These were just a few of the stories that make this painting so special to me. If you also have happy memories of this Kennywood scene, you can purchase it as a small print, as an ornament made by Wendell August Forge, or as part of my Kennywood magnet collection.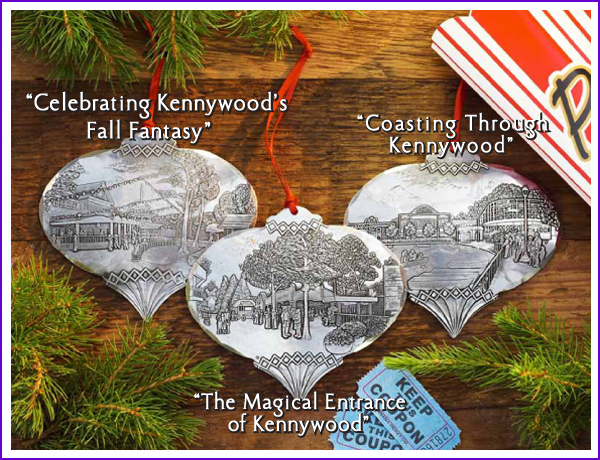 It's all available at my website. CLICK HERE! to start your shopping.
Make sure you are the first to know about all of my news, appearances and any "special deals" I am offering to my subscribers, by taking the time to sign up for my weekly newsletters now. CLICK HERE to sign up. You will also receive a FREE slideshow showing the step-by-step development of my painting, "Celebrating Time and Tradition at Macy's".