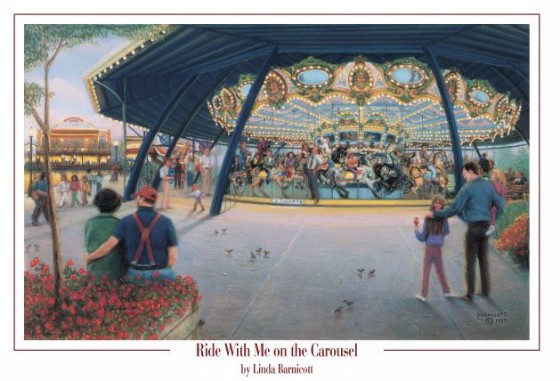 For the first time in 20 years, I will not be working on the Fourth of July!
That's right! Instead of spending the holiday at an art show, I've decided to celebrate at home with my family this year. I'll miss the fun of meeting people, the fireworks, and the festive energy. But I'll still enjoy reminiscing about 18 years' worth of Fourth of July weekends spent at Kennywood Park's annual festivals.
One of my favorite Kennywood memories involves the Grand Carousel and the man who so proudly represented it.
"Ride with me on the Carousel" was the first in my 10-year series of Kennywood paintings. Many years ago, one of my customers (who was an avid carousel collector) mentioned that if I ever painted the Kennywood Carousel, she wanted a print. Little did she know that I was already thinking about painting it!
That's because Tom and I had our very first Pittsburgh date at Kennywood. And one of the things that made a big impression on me that day was the gentleman who took the tickets for the carousel… the one who knew the ride inside and out, who enthusiastically greeted riders and clearly loved his job.
I later learned that his name was Tony Sacramento. He had been a beloved fixture at the park for so long, that they dubbed him "Mr. Kennywood."
When I first met Tony, he had already been having health issues, but he took the time to show me around "his" carousel, pointing out every one of its unique features.
On opening day that year, I invited about 25 of my closest friends to meet me at the Carousel for my first photo shoot at the park. Tony was a gracious host, and he even took the time to get up on the Carousel with my friends and ride it like a pro – backwards and leaning out ever so slightly.
During the festival that summer, he often sat with me by my booth (which was just across from the Carousel), and I remember so many folks stopping by to see him and give him hugs. One customer even kissed his hand as if he were holding court – a fitting tribute to the honorary "King of Kennywood."
He even volunteered to add his signature to every print purchased. Turning the print over, he would sign his name with flair, right across the back. He was so proud of that painting that for years he actually carried a postcard of it in his shirt pocket. And when I visited him at home shortly before he passed away, I saw that postcard, though tattered and worn, still proudly displayed on his mirror.
Tony will always be close to my heart as one of my most precious Kennywood memories.
When she saw the Carousel painting for the first time, one of my customers tearfully remarked, "This was the last ride my father and I always rode before leaving Kennywood." Which reminded me why I love to paint Kennywood and Pittsburgh memories… I treasure the opportunity to capture hometown memories for my customers of days gone by with family and friends that will bring joy to their hearts. It has been a privilege to serve as a "visual historian" through my art.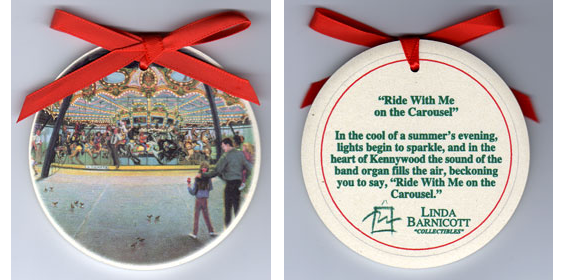 PS – I would love to hear about your own favorite Kennywood memories! Would you mind sharing them with me? Email me at info@lindabarnicott.com.
PSS – The original prints of "Ride with me on the Carousel" have been sold out for years, but you can get posters, ornaments, notecards, and magnets of on this website – CLICK HERE! They make perfect gifts and bring back great memories.
Make sure you are the first to know about all of my news, appearances and any "special deals" I am offering to my subscribers, by taking the time to sign up for my weekly newsletters now. CLICK HERE to sign up. You will also receive a FREE slideshow showing the step-by-step development of my painting, "Celebrating Time and Tradition at Macy's".