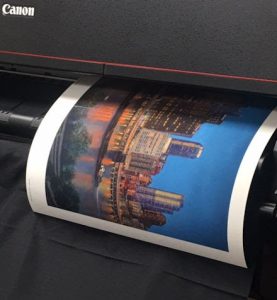 I have exciting news! After many long hours in the studio, my new painting, "Pittsburgh's Tunnel Vision," is finished!  With the Big Unveiling coming up in just one week, there was no time to sit back and relax.  The very next morning after finishing the painting, I headed off to my printer's studio to make the prints.  Alex and I worked together all through the day, making sure we got the night sky and all of the reflective colors just right.  But that wasn't all that had to be done on a tight schedule.  There were so many moving parts that had to come together before next weekend – including certificates of authenticity, brass plates for the frames, sending the image files to different printers, and then shipping the prints off to the framer.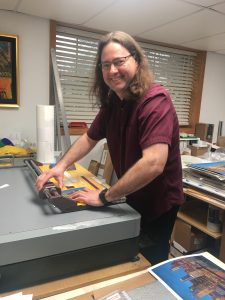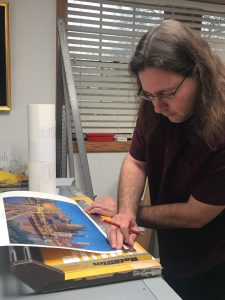 After all was said and done, our hard work paid off, and "Pittsburgh's Tunnel Vision" is all set for its big debut at the Pittsburgh Home and Garden Show next Friday (March 6) at 10 a.m.  As usual, you can find me at Booth #3146-8.  If you're thinking of attending the show, make sure to stop by and say hello!
If you've been reading each week, you'll remember I promised a special deal for my faithful readers…  so while I was working with my printer and occupied with all those things I mentioned above, I had my IT team working on one last detail.  I had them create a special offer page on my website – if you order a print of "Pittsburgh's Tunnel Vision" between now and March 5th, you'll receive $25.00 off each print… and did I mention FREE SHIPPING?  Visit https://lindabarnicott.com/product/pittsburghs-tunnel-vision/ and simply add the code PRESALE at checkout to claim your exclusive discount.
In my description of the painting on the presale page, I called it the "Grand Entrance into the city." I chose those words very carefully – now that my Jolly Old Elf Series is finished, I feel like "Pittsburgh's Tunnel Vision" is my own grand (re-) entrance as I return my focus to painting my hometown. Judging from the positive feedback I've already received, I couldn't have chosen a better place to start than painting this iconic scene. I hope you all enjoy the view!
It's never a dull moment for me, as I now turn my attention to Home and Garden Show set-up week.
See you at the Home Show!