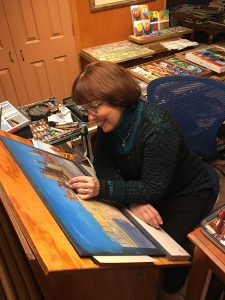 Today is one of those rare winter days in Pittsburgh, beautiful and sunny.  Too bad I'm "In The Zone" – holed up here in my studio and obsessed with my new painting.  Since I last wrote to you, eating, sleeping and everyday life in general have been on hold. I've hardly looked up from my painting to notice the weather or anything else. For all I know, we could be in the middle of a blizzard!
I call it Being In The Zone because when I'm painting, I inhabit a creative dimension where time doesn't exist, at least until I'm reminded that many hours have passed since the last time I ate or slept or took a bathroom break… and I also forgot to make dinner, pay the bills, and order supplies for the Pittsburgh Home and Garden Show. As you can tell from my photo, I have my nose to the grindstone – and I love it!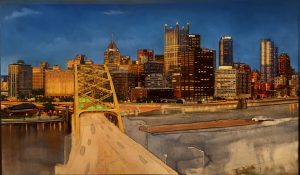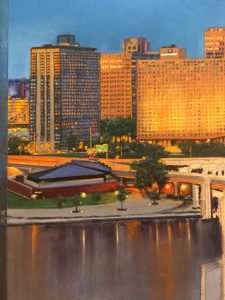 So here's the latest on my progress on "Pittsburgh's Tunnel Vision." As you can see, it's really coming along.  Painting the bridge has been especially intense – not only is it the focal point of the painting, but trying to get all the "hide-and-seek" spots between the different parts of the structure has been challenging.  What do you think so far?
There's already been a lot of excitement around the painting, and it's not even finished yet! Believe it or not, the original painting has already been sold.  A Pittsburgh expat (former South Hills resident) who has always loved that magnificent view from the Fort Pitt tunnel asked to purchase it after seeing only the sketch, the underpainting and a few buildings. I'm truly honored and will do my very best to justify his faith in me!  I pray that when it's finished it will be a piece he'll be proud to own.
I'm hoping you will also be happy to own a print of "Pittsburgh's Tunnel Vision."  I've already heard from quite a few of you who would like to pre-order the print once the painting is completed.  Details should be available by this time next week.
For those of you who want to claim your print now, look for a special pre-order offer before the unveiling at the Home Show on March 6th.
And while we're talking about saving money, watch this space!