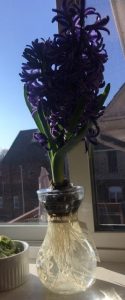 A couple weeks ago I was shopping at Aldi, and I saw the cutest little vase with a little bulb, white roots stretching down through the clear water and a few fresh green leaves popping out of it. It was a hyacinth, my favorite springtime flower. So of course, I had to give this precious little bulb a good home, and I placed in on my kitchen windowsill.
Over the last two weeks, I've been giving it fresh water and turning it each day so that it would grow straight as the sun – growing stronger every day – showered its gentle rays upon it. Just a few days ago it bloomed! And the best part is that it's purple, which happens to be my favorite color. The fragrance is so sweet. I love the way that little flower has brought spring into our home.
So not only has spring arrived in my kitchen, but Spring has arrived in Pittsburgh… because today is Opening Day of the Pittsburgh Home and Garden Show!
On Tuesday, Tom and I drove our loaded U-Haul to the David L Lawrence Convention Center. We've been working hard all week to create a place of color, form and composition in my booth to delight our customers. We are well stocked with many new pieces to see and some old favorites as well.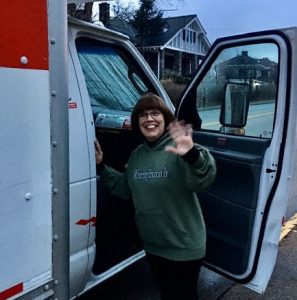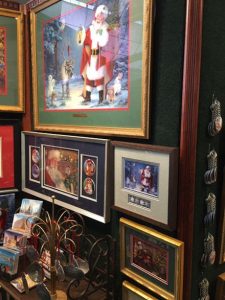 This year I am excited to release my brand new painting, "Pittsburgh's Tunnel Vision," featuring one of Pittsburgh's most iconic vistas – the view from above the Fort Pitt tunnels – and one of the subjects I've had the most requests to paint over the years. It's not only the "Grand Entrance" into the city of Pittsburgh, but I like to think of it as my "Grand (Re-)Entrance," returning to painting Pittsburgh once again now that my Jolly Old Elf series is complete. I'll have about 20 prints available at the show for purchase.
Along with the new painting, I will also have some beautiful specialty framed pieces that are fun and unique. Hurry in, they will go fast!
If you're feeling a bit of Spring Fever, why not come on down and visit me in person at the Home and Garden Show? I'll be at Booth 3146, just like always, right at the beginning of Artists' Row and close to the escalators. Hope to see you there!